Prepare to have your mind blown by these low-calorie, sweet sensations
At just 130kcal per brownie and with a portion of the sticky, creamy, toffee sauce, get ready to be blown away by these brownie delights.
The sauce is made with single cream, sweetener, a handful of chopped dates and a little brown colouring. The brownies themselves are made as normal, just with a load of sticky, sweet chopped dates stirred through. For something so simple, you aren't gonna believe the flavour you can achieve.
Ten of the 14g carbs are coming from the dates themselves and so are a natural sauce of sugar. As for the rest of the macros, its all just a little bit of Lo-Dough magic!
Ingredients
Serves 9
1 pack of Lo-Dough Brownie Mix
100g dates, liquidised with some of the 250ml water you'll be adding to the brownie mix
35g dates, finely chopped
100ml cream
50g sweetener
A few drops brown colouring/browning
What you'll need
This diet-friendly recipe is possible with:
Lo-Dough Brownie Mix
Regular price
£5.59
Out of stock
Method
Make the Lo-Dough Brownie Mix as per the packet instructions, adding the liquidised dates and remaining water.
Add the mix to your lined tin and bake for 25 minutes at 190C.
While this heats, gently heat your cream with the chopped dates, sweetener and colouring until well combined.
Once ready, cut the brownie into 9 portions. Serve warm or cold, adding a good drizzle of the sauce over each one.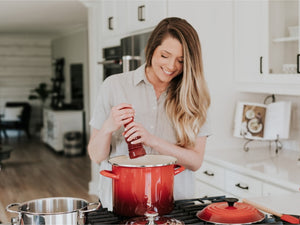 Hungry for more recipes?
Join over 200,000 subscribers in receiving new recipes, tips, offers and a whole lot more.