Behold! The most satisfying and tasty low-calorie burrito you could possibly make...
You wanna make burritos as low-calorie as possible? Make them with Lo-Dough... that's the key ingredient change that will give you the lowest calorie outcome for the greatest possible taste and belly filling satisfaction. 

Beyond that, it's all just tweaks. Go easy on (or leave out) the guac - it's healthy fat, but it's fat all the same - just be a bit more generous with your salsa and herbs to pack in the flavour. Switch the sour cream for fat free yoghurt (you won't notice the difference). Finally, pick super lean meat, or lose it entirely like we've done here - going with a bean and mushroom filling instead. The flavour is UNBELIEVABLE... trust us. 

Just roll your Lo-Dough flat with a rolling pin and get building that burrito!
Ingredients
Serves 1
1 Lo-Dough base, rolled flat
60g of boiled rice
50g of mushrooms, chopped
A tablespoon of taco/fajita/burrito spice mix
30g tinned black beans (kidney beans work fine too)
A tablespoon of salsa
A tablespoon of fat free yoghurt
A few bits of lime pickled onions
What you'll need
This diet-friendly recipe is possible with:

Original Lo-Dough Bases
Regular price
from £3.49
Out of stock
Method
Have all the fillings made ahead - brown off the mushrooms, add the beans and spice mix and combine. Season well. Make your own salsa or buy ready made.
Layer the fillings in any order you like in the centre of your Lo-Dough. Fold up and enjoy!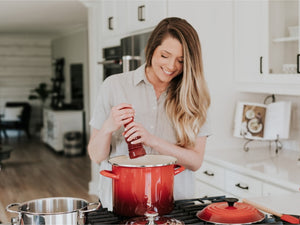 Hungry for more recipes?
Join over 200,000 subscribers in receiving new recipes, tips, offers and a whole lot more.