We've teamed up with two of our favourite brands to create a pizza loaded with nutritious vegetables, as many as 3 of your 5 a day, it's virtually fat-free thanks to Eatlean and incredibly low carb thanks to Lo-Dough. Finally the pizza you can eat every day of the week and feel great.
Ingredients
Serves 1
1 piece of Lo-Dough
2 tbsp Passata
30g Spiralised Courgette
30g Spiralised Butternut Squash
20g Beetroot Batons
20g Baby chestnut mushrooms
20g Red onions, thinly sliced
70g Eatlean Cheese - finely grated
20g Cherry Tomatoes - sliced
A good pinch of Spicentice Italian Rub
What you'll need
This diet-friendly recipe is possible with:

Original Lo-Dough Bases
Regular price
from £3.49
Out of stock
Method
Spread the passata all over one piece of Lo-Dough and pile on the spiralised courgette and butternut squash, then sprinkle with grated beetroot for colour and extra nutritional value.
We find that if finely grated your Eatlean Cheese (using a parmesan grater) goes a really long way and also nicely crispy around the edges. This works a treat with this recipe.
Top with all the cheese, and the rest of the veg, onions, mushrooms and tomatoes. Give it a generous few pinches of Spicentice Italian rub to really make it fill your kitchen with Italian aromas while it bakes.
Bake for 10-14 minutes at 180 degrees celsius and enjoy!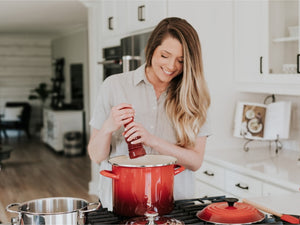 Hungry for more recipes?
Join over 200,000 subscribers in receiving new recipes, tips, offers and a whole lot more.