This is so simple, we can barely call it a recipe. It came from an experiment to see how Lo-Dough would compete on calorie-count and quality against a supermarket product. Where the supermarket product contained only 35 grams of chicken and a scant amount of salad and sauce, the Lo-Dough version contained 100 grams of chicken and was bursting with fresh salad and liberally dressed with sweet chilli sauce.
Here's the kicker:
The supermarket wrap came in at 367 calories
The Lo-Dough wrap came in at 196 calories.
It really is a total no-brainer.    
Ingredients
1 piece of Lo-Dough
100g cooked chicken breast
15g raw red/yellow pepper
3 cherry tomatoes
20g of mixed salad leave
1 heaped tbsp of sweet chilli sauce
What you'll need
This diet-friendly recipe is possible with:

Original Lo-Dough Bases
Regular price
from £3.49
Out of stock
Method
Place all the ingredients onto the Lo-dough wrap, leaving a small space at the bottom.
Fold up the wrap and eat.
Told you it was simple.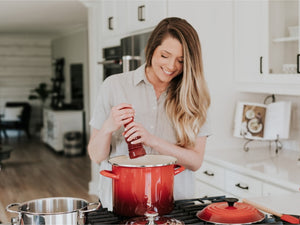 Hungry for more recipes?
Join over 200,000 subscribers in receiving new recipes, tips, offers and a whole lot more.