Yum
Meet your new 150 calorie date: Succulent Tandoori Chicken kebab with mint and coriander sauce. Mmmmm. That's a big juicy 'hell to the YES' from us.
You're welcome.
The new age of food tech has arrived and disrupted the way we eat food forever. Donned as 'death wrapped in pitta bread', a particularly large and greasy kebab could contain as many as 2000 calories. That's the recommended daily calorie intake for women.
That's your whole day's calorie allowance gone. In one sitting.
Lo-Dough changes everything. By swapping the carb-laden pitta bread for Lo-Dough and the greasy donner meat for succulent (yet lean) chicken breast, what you get is a delicious kebab experience without the post-pub calorie content.
Let the flavours do the talking: For this recipe, we used Spicentice Tandoori Rub to flavour the chicken and made our own kebab sauce using mint, zero fat yoghurt and coriander.
Prefer curry? Try the super low-carb chicken curry with Lo-Dough chapatis 
Ingredients
Serves 1
1 piece of Lo-Dough
50g skinless chicken breast
1 tbsp Spicentice Tandoori rub
2 round tbsp zero-fat natural yoghurt
1 salad tomato, sliced into pieces
50g round lettuce leaves
1 tsp raw lemon juice
1 clove garlic, grated
1 tbsp fresh mint, finely chopped
¼ cup fresh coriander, finely chopped
Frylight
What you'll need
This diet-friendly recipe is possible with:

Original Lo-Dough Bases
Regular price
from £3.49
Out of stock
Method
Place half of a chicken breast on a chopping board roll and cover loosely in cling film. Roll across the chicken until it has flattened in equal parts. Slice into pieces and sprinkle with Specentice Tandoor rub.
To make the sauce, mix together the yoghurt, mint, lemon juice and coriander in a bowl and stir well.
Cook the chicken in a very hot pan for approx 4 minutes on each side.
Meanwhile, chop the salad tomato into thin slices and chop your lettuce leaves to desired length. Set aside and put a griddle pan on a high heat.
Remove one piece of Lo-Dough out of the packet (taking care to peel away the paper). Splash with water (so it doesn't dry out) and once the griddle pan is very hot, spray with Frylight and press the Lo-Dough down for 20 seconds on each side.
Remove from the heat and add the salad, chicken and sauce to the middle of the Lo-Dough (leaving room for the roll!). Fold up and over and enjoy the ride!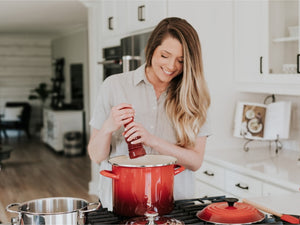 Hungry for more recipes?
Join over 200,000 subscribers in receiving new recipes, tips, offers and a whole lot more.