Bacon, egg, black pudding, sausage, mushrooms, grilled tomatoes (plus passata underneath) and cheese on a pizza base for less than 600 calories - this may be hard to believe, but with Lo-Dough as your low fat pizza base, the impossible became possible. 
In fact, it has never really been easier to stay on plan, comply with your fitness goals, or stay within your daily calorie intake since the birth of Lo-Dough. It's your low fat pizza base, but also your wraps, bread, cake mix, and a whole range of other things which can replace a lot of the unhealthy parts of your diet. On this occasion, we're using it as a base for a delicious and boldly-topped pizza which makes for the breakfast of dreams. 
Unusual pizza recipes made healthier
Most Full English Breakfasts won't feature cheese and will still come in at between 1000-1500 calories, often due to the greasy, fried nature of cooking, but also because of the starchy elements like toast and fried bread. 
Now with Lo-Dough, you can enjoy all the glorious flavour combinations of this great meal (one that supposedly dates back to the 13th century), but with less calories and better nutrients.
Did you know? Lo-Dough is:
High fibre | fat free | low-carb | gluten free | dairy free | high protein | paleo | vegetarian | sugar free 
Ingredients
1 piece of Lo-Dough
60g of passata
50g of grated mozzarella
2 rashers of bacon
1 pork sausage
40g of black pudding
25g of chestnut mushrooms
3 cherry tomatoes, cut in half
6 sprays of fry-light oil
What you'll need
This diet-friendly recipe is possible with:

Original Lo-Dough Bases
Regular price
from £3.49
Out of stock
Method
Preheat your oven to 250°C/475F/Gas 9.
Grill your bacon, sausage and black pudding until cooked as you like. Once it has cooled a little, cut into bite sized pieces.
In a couple of sprays of fry-light, sweat the mushrooms.
Spray the fry-light into a pan, and fry off your Lo-Dough to add some colour to the base.
Put the Lo-Dough onto your cooking tray/pizza stone/air-fryer stand and spoon the passata over it, making sure to spread it right to the edge.
Add most of the cheese, leaving a small circle in the middle without any cheese. Then arrange all the cooked items around that circle as well as the tomatoes. Crack the egg into the middle area you left bare. Top with the remaining sprinkle of cheese.
Bake in your oven for 7-9 minutes or until golden and bubbling. Ensure the egg white is fully cooked through before serving.
💡 Top Tip
If you feel you like your base could be crispier when it comes out, try adding back to a hot, dry frying pan for 8-10 seconds and remove with a fish slice.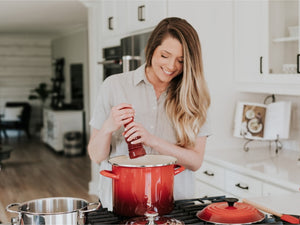 Hungry for more recipes?
Join over 200,000 subscribers in receiving new recipes, tips, offers and a whole lot more.