A Keto Sandwich That Is Packed With Flavour & Incredibly Low In Carbs
The club sandwich is a bonafide classic and a thing of great beauty - soft chicken breast, crisp bacon, cheese, mayo lettuce and tomato. Nothing added or taken away could improve on this classic combo.
If you are following a Ketogenic/low-carb diet, ingredients-wise, it's so far, so good. The problem, as ever, is the bread. A standard white slice contains approx. 25g of carbs - and you can double that for a sandwich. 50 plus carbs for a sandwich will throw any low-carb diet out of kilter and effectively put sandwiches off the menu. 
Lo-Dough turns all of that on its head. At just 2.2g of carbohydrate per piece, Lo-Dough allows you to keep the carbs down without altering a single element of the delicious filling. Additionally, a piece of Lo-Dough supplies 9.3g of fibre - brilliant for replacing that feeling of fullness after a carb heavy meal. 
Making Your Keto Sandwich
To make a Lo-Dough toasted sandwich, simply stack up your ingredients over half the piece of Lo-Dough, fold over the other half and place in a preheated sandwich press for approx. 3-4 minutes. If you don't have a sandwich press, you could fold the sandwich over the same way and use a spatula to press it down in a griddle pan, turning halfway through cooking.   
The ketogenic diet is notoriously hard to stick to, but it is made far easier with Lo-Dough in your culinary armoury.
Make it with Lo-Dough.
(Note - there are 2 Lo-Dough toasties in the picture) 
Ingredients
Serves 1
1 piece of Lo-Dough
75g of chicken breast (half a chicken breast), sliced
2 rashers of streaky bacon, grilled/fried until crisp
Half a tomato, sliced
1 slice of Emmental cheese
A few leaves of little gem lettuce
1 tablespoon of mayonnaise
Spray oil
What you'll need
This diet-friendly recipe is possible with:

Original Lo-Dough Bases
Regular price
from £3.49
Out of stock
Method
Preheat your sandwich press/griddle.
Add your ingredients to one half of the Lo-Dough - spreading the mayo first and then stacking the other ingredients in any order you choose.
Spray the sandwich press/griddle with oil, place your Lo-Dough sandwich in and close the press (or press down with a spatula in the griddle-pan, turning halfway through).
Cook for 3-4 mins and serve.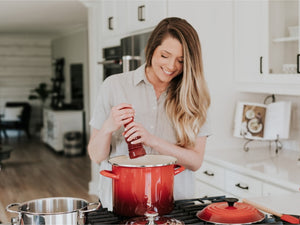 Hungry for more recipes?
Join over 200,000 subscribers in receiving new recipes, tips, offers and a whole lot more.