Garlic Mushroom Heaven On A Pizza & All For 403 Calories and 8g of carbs
This pizza blew us away! This would work well with just button or chestnut mushrooms by getting your hands on a variety of wild mushrooms (we got ours in a supermarket), you up the ante that little bit more. 
The mushrooms give and earthy, rich depth to the flavour of the pizza, as you'd expect. Alongside their best ingredient friends: garlic, thyme and a pinch of chilli, they are a total treat and a perfect pizza topping. 
Check out the macros too! Low-cal, low-carb and super high in fibre!  
Ingredients
Serves 1
1 piece of Lo-Dough
100g of mixed mushrooms
10ml of olive oil
1 clove of garlic, finely sliced
A teaspoon of chopped thyme
A pinch of chilli flakes
75g of mozzarella cheese
2 tablespoons of passata
Salt & pepper
What you'll need
This diet-friendly recipe is possible with:

Original Lo-Dough Bases
Regular price
from £3.49
Out of stock
Method
Preheat your oven to 220°C/428F.
On a high heat, fry you mushrooms in the oil until cooked. Add the garlic, thyme and chilli, plus salt and pepper and cook for a further minute.
Spread the passata across the Lo-Dough in a thin layer, right up to the edge.
Spread grated cheese on top of the passata, add mushrooms, then put the pizza in the oven for 7 minutes or until golden and bubbling.
Serve with a crack of black pepper on top.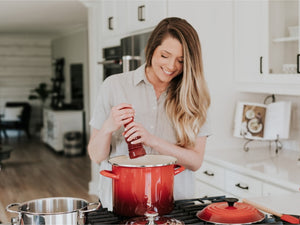 Hungry for more recipes?
Join over 200,000 subscribers in receiving new recipes, tips, offers and a whole lot more.