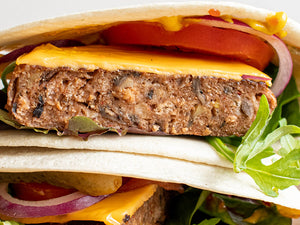 gluten-free
vegetarian
The Ultimate Low-Calorie Veggie Cheeseburger Wrap
Share
Facebook
Twitter
WhatsApp
Email
Nothing beats a burger straight off the BBQ. Our low-carb veggie cheeseburger wraps are the way to go if you're staying plan this summer.
Veggie burgers have come a long way in the last few years, giving you a fantastic opportunity to enjoy these classic bbq/grill meals without reaching for meat products. Still, they can be laden with calories and carbs (in terms of carbs, more than their meat counterparts). 
That's where Lo-Dough comes in. By swapping out the usual carb-heavy bun for a Lo-Dough wrap, you are minimising, if not slashing the macros down to something that fits your diet plan, without sacrificing on any of the tasty elements that makes a burger a satisfying and delicious meal to savour!
Ingredients
Serves 1
1 piece of Lo-Dough
1 veggie burger
1 cheese slice
A few leaves of lettuce
1-2 rings of red onion
1-2 slices of tomato
1 large gherkin, finely sliced
Salt & pepper
What you'll need
This diet-friendly recipe is possible with:

Original Lo-Dough Bases
Regular price
from £3.49
Out of stock
Method
BBQ or grill your burger until cooked through. Finish for the last couple of minutes with a slice of cheese.
Cut the burger in half and arrange in a piece of Lo-Dough with salad and condiments of your choice and serve.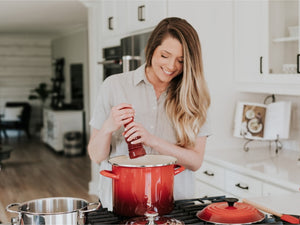 Hungry for more recipes?
Join over 200,000 subscribers in receiving new recipes, tips, offers and a whole lot more.