Say Cheese! Low-Carb Toastie Heaven! 
Don't think a low-carb diet means you have to miss out on toasties like this! You can pretty much go with any four of your favourite cheeses (we recommend a base of 50g mozzarella and 3 others) - it won't affect the carbs and probably won't much affect the calories in the end either.
This one is all about pleasure. Gooey cheese, with crispy, salty edges. What's not to love? 
Ingredients
Serves 1
1 piece of Lo-Dough
50g of grated mozzarella cheese
20g of blue cheese
20g of cheddar
20g of soft cheese (Brie, Taleggio, Fontina etc)
10 sprays of spray oil
What you'll need
This diet-friendly recipe is possible with:

Original Lo-Dough Bases
Regular price
from £3.49
Out of stock
Method
Preheat your sandwich press/griddle.
Add your cheese to one half of the Lo-Dough, then close over the lid half of the Lo-Dough.
Spray the sandwich press/griddle with oil, place your Lo-Dough sandwich in and close the press.
Cook for 3-4 mins and serve.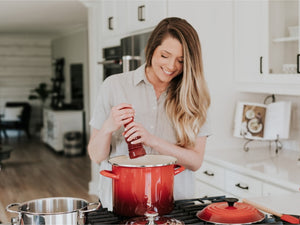 Hungry for more recipes?
Join over 200,000 subscribers in receiving new recipes, tips, offers and a whole lot more.