Low Carb and Low Calorie Pancakes - no need to hold back
 If we could eat pancakes every day we would. The smell of pancakes cooking is one of the only reasons to get out of bed on the weekend, they fill you up, make everyone happy and start your day off with a bang.
Being naturally low in calories (and virtually carb-free), Lo-Dough makes the perfect gluten free, low carb pancake: Perfect for anyone following a keto/LCHF/paleo meal plan.
The thing we love most about the Ketogenic/LCHF diet is the ability to enjoy and indulge in fats such as butter, cream, eggs and coconut oil. We revelled in creating this recipe using Skinny Syrup to keep the sugar content as low as possible but added lots of delicious cream to tantalise the taste buds.
Carb Note: When shared between two people, we're looking at a total carb count of 6.5g per person. However, if you're feeling mega hungry and can't bear to share, then this recipe will take your total carb count to 13g: Well within the recommended daily amount to hit ketosis.
If however, you would like to reduce this from 13g to 8g simply remove the mixed berries from the equation. 
Ingredients
Serves 1
3 eggs 30g mascarpone 50ml coconut milk
1 tsp vanilla extract
1 tsp vanilla skinny syrup
2 pieces of Lo-Dough cut up into 10 cm circular pieces with a pastry cutter
1 tbsp coconut oil
150g Myprotein sugar free maple syrup
Pistachio crumb (10 pistachios)
½ cup fresh mixed berries (blackberries, raspberries, and blueberries)
50ml whipping cream
What you'll need
This diet-friendly recipe is possible with:

Original Lo-Dough Bases
Regular price
from £3.49
Out of stock
Method
To make the batter beat the eggs, vanilla extract, vanilla skinny syrup, mascarpone and coconut milk until smooth.
Soak the Lo-Dough in the mixture and refrigerate for 20 (if you're short on time) - 60 minutes. For best results, we would highly recommend at least one hour as this allows the Lo-Dough to really soak up the mixture for the best (and indeed tastiest) effect.
Gently heat the sugar free maple syrup until warm and remove from heat.
Preheat a frying pan on medium to high heat. Once heated, add one tbsp organic coconut oil until melted and hot.
Take the Lo-Dough out of the fridge (taking care not drip the batter mix all over your lovely kitchen!) and fry in the coconut oil for 2-3 minutes on each side until the Lo-Dough has taken on a deeper brown/toasted colour.
Once browned off, layer the pancakes on top of one another in a stack and spoon the maple syrup sauce all over your pancakes.
Take the whipped cream and spoon over the top.
Top with berries and pistachio crumb, and resist the compulsive need to share immediately on social media (we dare you!).
Enjoy!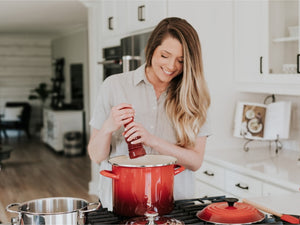 Hungry for more recipes?
Join over 200,000 subscribers in receiving new recipes, tips, offers and a whole lot more.