gluten-free
vegetarian
Ultimate Tomato Puree-Based Pizza Sauce
Share
Facebook
Twitter
WhatsApp
Email
A few store cupboard stand-bys can make a pretty special sauce!
If all you have around is a bit of puree and a few store cupboard ingredients, this is the sauce for you. We don't advise using tomato puree straight from the tube as a base sauce - it's a touch dry and will catch and burn. At a push, dilute it with water in a bowl before spreading on your low-carb pizza base. But if you have 20-30 minutes free and a few ingredients, try this - the taste is outstanding.
Ingredients
Serves 6
1 tablespoon of extra-virgin olive oil
Half an onion, finely chopped
1 medium clove garlic, crushed
2 tablespoons of tomato puree
1 tablespoon of white wine vinegar
A few drops of Worcester sauce/mushroom ketchup
A couple of drops of anchovy sauce/one or two anchovies
A pinch of oregano
A pinch of salt
1 teaspoon of erythritol
400ml of water
A few sprays of oil
Salt & pepper
Method
Soften the onion and garlic in the oil for around 10 minutes.
Add all the other ingredients and simmer for approx. 20 minutes, until reduced slightly. Allow to cool.
Blitz to a smooth sauce in a food processor.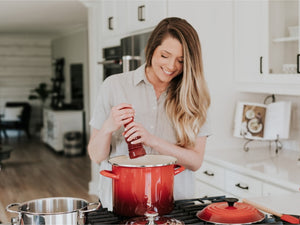 Hungry for more recipes?
Join over 200,000 subscribers in receiving new recipes, tips, offers and a whole lot more.