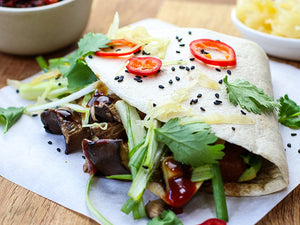 gluten-free
vegetarian
Ultra Low-Calorie Miso Mushroom & Tofu Bao Bun
Share
Facebook
Twitter
WhatsApp
Email
Ultra low-calorie asian inspired meals? Lo-Dough... Take a Bao!
We all LOVE bao buns here at Lo-Dough, but if looking to cut calories, up your fibre or are avoiding carbs or gluten for any other reason, we've found that our bases are a brilliant replacement for the buns themselves. 
Our king oyster mushroom and tofu baos are where it's at! Incredible tasting, low calorie and brilliantly low-carb. 
Ingredients
Serves 2
Half an Original Lo-Dough Base
50g King oyster mushroom, glazed with 5g of miso and roasted for 10-15 minutes
50g of sliced marinated tofu
50g mixed stir-fried vegetables
A few pieces of shredded spring onion and beansprouts
10g Sweet chilli sauce
To garnish
Coriander and sesame seeds
What you'll need
This diet-friendly recipe is possible with:

Original Lo-Dough Bases
Regular price
from £3.49
Out of stock
Method
Add the cooked mushrooms, stir-fried veg and sweet chilli to the the Lo-dough.
Fold over the lid and place in a steamer (as pictured). Cook for approx. 2-3 minutes over a medium heat.
When the veg are fully heated through, open the lid and add in the additional raw veg and sweet chilli. Sprinkle with sesame seeds. Serve.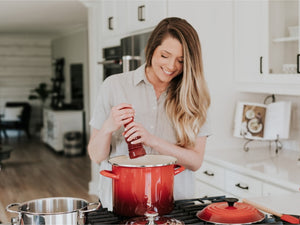 Hungry for more recipes?
Join over 200,000 subscribers in receiving new recipes, tips, offers and a whole lot more.