We've made a super-special celebration cake to celebrate the launch of our new Vanilla Sponge Cake Mix!
Our brand new cake mix is sugar-free, 47 kcal per portion, 1.4g carbs per portion and completely delicious. Soft and cakey, flavoured with vanilla and sweetened with natural erythritol sweetener, this is the cake mix that puts you in control. Full of fibre, you'll be actually satisfied by the serving!
Our celebration cake adds a few bells and whistles (well, pretty much throws the kitchen sink at the cake!), but you can pick and choose which ever toppings you want! Just have fun with it... our low-calorie cake mix is the launch pad for your creativity!
Note: Most shop-bought decorations are quite (if not, very) sugary. Using our brand new cake mix will massively reduced the sugar, carbs and calories of the cake, we wouldn't recommend this style of decoration for a strict low-carb or keto diet. Don't worry - our mix is incredibly versatile and there are countless options for you guys with this cake - start with the fruit or low-sugar jam and clotted cream! You wont be disappointed...
Ingredients
Serves 6
1 Lo-Dough vanilla sponge mix
240g of water
200g of mixed fresh berries, half sliced, half left whole
30g of double cream, whipped
10g of white chocolate drops
10g of mixed hundreds and thousand-style decorations
A dusting of edible gold spray
Plus any other ribbons, candles and decorations you like!
Method
Make up the Vanilla Sponge Mix and bake according to the packet instructions using a 6-inch lined tin or mould.
Carefully slice in half, creating a base and a lid.
Spread the base with the cream and layer up some of the.
sliced fruit and low sugar jam and then sandwich together.
Add more cream to the top, then more fruit, sugar decorations white chocolate drops, edible gold spray and other ribbons and decorations you like—it's your time to get creative!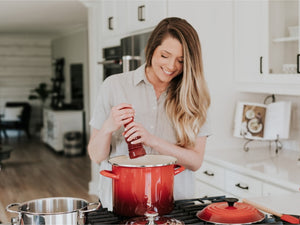 Hungry for more recipes?
Join over 200,000 subscribers in receiving new recipes, tips, offers and a whole lot more.