This recipe takes 5 minutes or so to prepare and it's so much better for you than your typical quiche. Why? Because Lo-Dough replaces your pastry and supplies you with a low calorie alternative.
The British asparagus season last for just 6 weeks from May through to June and cooks up and down the country will be looking for more inventive uses for this amazing vegetable than just simply boiling it. 
155 calories per portion.
With calories so low, this makes for the perfect spring/summer snack, whether you are slimming or dieting, or generally taking care of your fitness and nutrition. Delicious when still warm, but just as good cold, we think this a great one for your lunchbox.
Low Calorie Vegetarian Recipes with Lo-Dough
Using Lo-Dough as your pastry alternative paves the way for super healthy quiche dishes among many, many more. Even if you are not a vegetarian and you just enjoy the delights of asparagus and quiche, this recipe is a great way to enjoy good food which is low calorie, low fat, and high in protein and fibre. 
Buy your Lo-Dough bread and pastry alternatives today. 
Ingredients
Serves 4
1 piece of Lo-Dough
125g of asparagus, blanched in boiling water for 3 mins
1 tablespoon of chopped chives
A small sprinkle (approx. 10-15g) of cheddar cheese
150ml of half-fat crème fraiche
3 eggs
Salt & pepper
What you'll need
This diet-friendly recipe is possible with:

Original Lo-Dough Bases
Regular price
from £3.49
Out of stock
Method
Preheat the oven to 160C/325F/Gas 3.
Push the Lo-Dough into a greased and lined tin, taking care to push it into the corners and create an upright edge.
Arrange the pieces of asparagus on the Lo-Dough.
Whisk the 3 eggs and half-fat creme fraiche in a jug with the chives, season to taste with salt and pepper and carefully pour over the asparagus. Top with a sprinkling of the cheese.
Bake in the oven for 30-40 minutes. Take out and allow to cool on a rack for at least 10 mins. Enjoy warm or cold!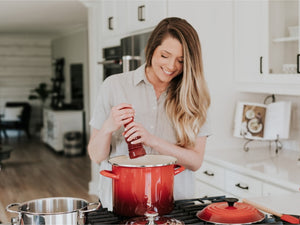 Hungry for more recipes?
Join over 200,000 subscribers in receiving new recipes, tips, offers and a whole lot more.