Low calorie vegetarian pizza with a twist 
Up in the north of Italy they make pizza a little differently. Instead of the more commonly found tomato-sauce base, they use a white sauce usually comprising of crème-fraîche and gruyère cheese, with meat and veg on top. We challenged ourselves to come up with a low-calorie slimmers version and thanks to both the Lo-Dough and the cottage cheese/quark base, it comes in at 210 calories for the lot. 
We added onions, garlic and herbs into the cheese mix and then LOADED our base with lots of the tasty sauce and charred veg. It felt very substantial indeed and was super-tasty to boot. To be honest, we reckon half of this particular pizza and salad would be more than enough for a meal and that would put the pizza portion at a delightful 105 calories. 
It is not necessary to eat meat to get all the nutrients needed for good health. A person who chooses not to eat meat may enjoy better health, because they will eat more plant-based foods, and because they may be more active in making healthy choices.

Vegetarian Diets Have Huge Health Benefits
 It's widely known that a vegetarian diet is good for you, and not just because you tend to find lower calorie vegetarian recipes. You can also massively reduce the risk of heart disease, obesity and type 2 diabetes. It's also been linked to a reduction in cancerous growths. To top it all, eating a veggie diet, whether habitually or just once or twice a week , generally results in weight loss. 
Ingredients
1 piece of Lo-Dough
90g of mixed peppers (not green), chopped into pieces
50g of corgette, sliced in thin pieces
60g red onion, in chunks
1 white onion, chopped finely
1 clove of garlic, crushed
1 teaspoon of finely chopped thyme
125g of low fat cottage cheese
1 teaspoon of quark
6-8 sprays of fry-light oil
Salt & pepper
What you'll need
This diet-friendly recipe is possible with:

Original Lo-Dough Bases
Regular price
from £3.49
Out of stock
Method
Preheat your oven to 250°C/475F/Gas 9.
Griddle off your vegetables in a couple of sprays of fry-light. You are looking for nice char lines.
In another pan, use a couple more sprays of fry-light and soften your garlic onions and herbs. Allow to cool a little.
Mix the onions and herbs with the cottage cheese and quark.
Spray the fry-light into a pan, and fry off the Lo-Dough briefly to add colour br>.
Fry off the lo-dough in the last couple of sprays of oil. 30 seconds or so, just for colour and a crisper texture.
Put the Lo-Dough onto your cooking tray/pizza stone/air-fryer stand and spoon the cottage cheese/onion mix over it, making sure to spread it right to the edge. Add salt & pepper to taste.
Add the griddled veg on top.
Bake in your oven for 6-7 minutes. After removing, sprinkle with the basil leaves for a hit of fresh flavour and colour. Serve straight away.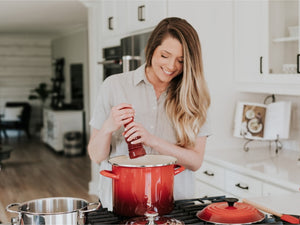 Hungry for more recipes?
Join over 200,000 subscribers in receiving new recipes, tips, offers and a whole lot more.