With this low-calorie pizza, you are just a few steps away from heaven!
We all know the benefits of eating a wide array of vegetables - we've written blogs about it! With different vegetables containing different vitamins and minerals, it's really a case of the more the merrier. By packing them on top of a Lo-Dough pizza, you will get to enjoy vegetables in one of the tastiest ways we can think of! This would be a great way to get kids eating vegetables too! 

This is low-carb pizza done right - all but four of the carbs are coming from the vegetables themselves.
Ingredients
Serves 1
1 piece of Lo-Dough
2 tablespoons of passata/pizza sauce
70g grated mozzarella
30g of oyster mushrooms, sliced
50g of mixed peppers (red, yellow, green), diced
1 cherry tomato, sliced
1 spring onion, finely sliced
10g sweetcorn kernels
What you'll need
This diet-friendly recipe is possible with:

Original Lo-Dough Bases
Regular price
from £3.49
Out of stock
Method
Preheat your oven to 220°C/428°F.
Spread the passata across the Lo-Dough in a thin layer, right up to the edge.
Spread the cheese around the pizza. Top with all the vegetables, spreading them evenly across the pizza.
Bake in the oven for 7-10 minutes, or until golden and bubbling. Serve with a crack of black pepper on top.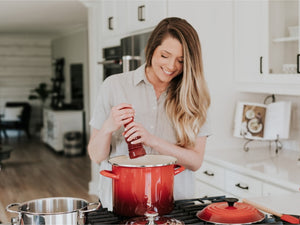 Hungry for more recipes?
Join over 200,000 subscribers in receiving new recipes, tips, offers and a whole lot more.