A jumbo portobello mushroom filled to the brim with melted gorgonzola, garlic and onion and sat atop some pickles and salad, held together inside two pieces Lo-Dough. You get it all for just 218 calories and 4g carbs. This is veggie food at it's indulgent best. Sure, you'll get a little messy eating it - that's always the way with a great burger. What's more - it's a slimming friendly recipe. 
Low carb lunch ideas that are meat free
You will need to cut out some rounds from your Lo-dough, but don't throw out the offcuts. Put them in a food processor, whizz them up into crumbs and then put them into a sealed box in your fridge for up to 3 days or freeze to use later as part of one of our bakery recipes (one piece of Lo-Dough is 28g - all our recipes work to this measurement unless stated otherwise). This one is as easy to make as it is tasty to eat, so get cooking.
 Check out more vegetarian recipes done the Lo-Dough way
High fibre | fat free | low-carb | gluten free | dairy free | high protein | paleo | vegetarian | sugar free 
Ingredients
1 piece of Lo-Dough, to be cut to shape
1 large portobello mushroom
35g blue cheese, cut into chunks
10g of finely chopped onion
1 clove of garlic
A teaspoon of chopped thyme
A pinch of chilli flakes
1 slice of tomato
A gherkin, sliced
A couple of lettuce leaves
10 sprays of fry light
What you'll need
This diet-friendly recipe is possible with:

Original Lo-Dough Bases
Regular price
from £3.49
Out of stock
Method
Using an 11cm pastry cutter, cut out two circles from your piece of Lo-Dough - your lid and your base. Keep back the offcuts for another recipe, as described above.
Lightly fry your onion, garlic and thyme in a few sprays of fry light until softened and put into the middle of the upturned mushroom. Top with the cheese and sprinkle with the chilli flakes.
Place the mushroom onto a tray, spray all over with the remaining fry light and bake in the oven at 180C/Gas 4 for 10-15 minutes, or until the cheese is melted and oozy.
Arrange the salad items and the pickle on the Lo-dough base, then add the mushroom and the lid. Enjoy.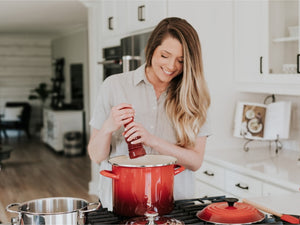 Hungry for more recipes?
Join over 200,000 subscribers in receiving new recipes, tips, offers and a whole lot more.