A Classic Waldorf Salad Given A Probiotic Twist & A Massive Fibre Boost
Incredibly enough, the Waldorf Salad has been with us as a recipe since the late 19th century. It may not be considered the height of food fashion right now, but classics are given classic status for good reason and the flavour combinations here are something to be reckoned with. 
The contrast between the aromatic, savoury flavour of the celery and the sweet apple and grapes is key here. Not to mention the slight bitterness from the walnuts. As ever in life - all good things are about balance and this salad has it in spades. Bolstered by some soft, juicy chicken and a piece of fibre-dense, but low-cal/low-carb Lo-Dough, this becomes something very serious indeed. 
Our twist on this recipe is to dress the salad in live yoghurt rather than mayonnaise. You could, should you desire, go 50/50 on both. But for us, the live yoghurt really adds something flavour-wise (a distinct, acidic sourness) as well as the probiotic goodness and all the gut-health benefits that come with that.

A Low-Carb Chicken Wrap
Usually, to up your fibre intake anywhere close to your recommended daily allowance (30g), you would be almost guaranteed to be ramping up your carbs and calories. Not with Lo-Dough. Combined with various healthy and nutritious vegetables/fruits, one piece of Lo-Dough allows you to hit nearly half your daily fibre allowance in a single sitting without adding any refined carbs whatsoever. 
Recipe Tips
Just a few pointers to get the most out of this dish. Celery is an under-used vegetable and often, is something that people turn their noses up at. To get the most out of this vegetable raw, you should strip away the darker green outer stalks and uses these in stocks, stews and soups. These can be fairly stringy and a little strong in flavour, so require cooking. It is the lighter, yellower stalks found in the middle that taste most delicious raw and should be used in salad dishes. The same goes for the leaves. They work as a delicious herb, but again, only use the yellower leaves - they are much more delicate in flavour. 
Finally, keep the skin on your apple - it contains half the apple's fibre and also contributes flavour and texture. 
For more fibre-rich, gut healthy recipes, Lo-dough has got you covered, no matter your taste. Check out the high-fibre recipe section.
Ingredients
Serves 1
1 piece of Lo-Dough
80g of cooked, skinless chicken breast
40g of apple (approx half), skin on, sliced
40g celery, (approx one medium stick), finely sliced
15g (a small handful) of halved grapes
20g (a small handful) of crushed walnuts)
A few mixed salad leaves
A few chopped kale leave, finely sliced
2-3 tablespoons of live yoghurt
Salt & pepper
What you'll need
This diet-friendly recipe is possible with:

Original Lo-Dough Bases
Regular price
from £3.49
Out of stock
Method
Use a rolling pin to flatten down your piece of Lo-Dough.
Add the chicken, apple, celery, grapes, nuts, salad and kale to a bowl and dress with the yoghurt - make sure everything is nicely coated.
Arrange the dressed salad on your wrap - as much as you think you can squeeze on! Season to taste, wrap up and enjoy.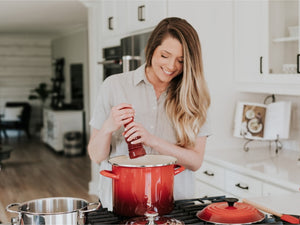 Hungry for more recipes?
Join over 200,000 subscribers in receiving new recipes, tips, offers and a whole lot more.