A classic combo of saint and sinner takes the Lo-Dough Brownie to another place entirely!
The combination of raspberry and white chocolate has long been well-loved by those of you with a sweet tooth, so we couldn't believe we still hadn't tried it in a Lo-Dough brownie! 
Needless to say, it works a treat - sure, it adds a few more calories and carbs, but the brownies are so low in both already, that you've got the room to add pretty much whatever you like! Go wild - You're still eating brownies for under 100 calories!
Ingredients
Serves 9
1 pack of Lo-Dough Brownie Mix
50g of white chocolate, chopped into chunks
50g of raspberries, halved
What you'll need
This diet-friendly recipe is possible with:
Lo-Dough Brownie Mix
Regular price
£5.59
Out of stock
Method
Make the Lo-Dough Brownie Mix as per the packet instructions, gently folding in the white chocolate and raspberries at the end.
Add the mix to your lined tin, and bake for 25 minutes at 190C.
Allow to cool (as per the instructions) and then cut into 9 portions and serve.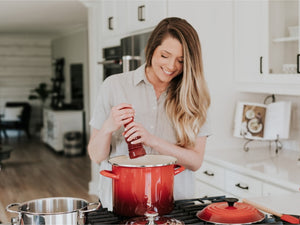 Hungry for more recipes?
Join over 200,000 subscribers in receiving new recipes, tips, offers and a whole lot more.