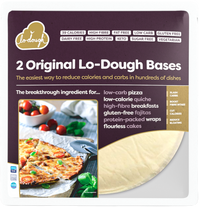 Original Lo-Dough Bases
The easiest way to cut calories and carbs in hundreds of dishes.
Lo-Dough puts your foodie favourites right back on the menu with 90% less carbs and dramatically fewer calories than traditional pizza bases, bread, cakes and pastry products.
Only 39kcal
2.2g carbs
Gluten free
Vegetarian
GMO free
Dairy free
High protein
Use the following promo code at checkout to get your first packet of Lo-Dough for FREE!
View product
T&Cs apply. First time purchase only. One packet per person (2x Lo-Dough bases). Shipping fees apply. Offer available while stocks last.