Most food and diet advice makes us sad. We're told to ditch our favourite foods in favour of ones we despise and put our nostalgic memories of burger and chips to bed, never to be thought about, dribbled over or devoured ever again. How incredibly depressing.
We believe healthy eating ought to be fun, and you should never have to give up your favourite meals in favour of rabbit food. This cheeseburger toastie uses lean ground steak chuck to make the patties, with a little salt and pepper for seasoning: Pure and simple. We've added Monterey Jack Cheese, salad, pickle and crispy onions. All for only 417 calories and 6g carbs for the whole burger!
As a side suggestion, we would highly recommend baked celeriac chips/fries. Simply add a few sprigs of thyme or rosemary, cooking spray, chilli flakes, and salt and pepper. Bake in the oven for 25-45 minutes and you have yourself a delectable side portion for only 207 calories. That's under 650 calories for the whole dish!
Knocked it out the park? Check out the 150 calorie Lo-Dough kebab experience.
Ingredients
Serves 1
1 piece of Lo-Dough
100g 5% fat beef mince
2 lettuce leaves
1-2 slices salad tomato
1 tsp red pickle
2 slices of gherkin
1 slice of Monterey Jack Cheese
1 tsp top taste crispy onions
Salt & pepper
Frylight
What you'll need
This diet-friendly recipe is possible with:

Original Lo-Dough Bases
Regular price
from £3.49
Out of stock
Method
Remove one piece of Lo-Dough from the packet and peel away the protective paper. Set aside.
On a separate chopping board, make a patty with the ground steak chuck and season with salt and pepper.
Fry the patty off in a hot pan until seared on the outside but still pink on the inside.
Take the Lo-Dough and put a generous slice of Monterey Jack Cheese in the middle, then add a pickle on top (we used a slice of gherkin, but you may wish to use onion or cornichons as an alternative). Place the burger patty on top.
You then wrap the Lo-Dough around the burger in a six-sided fashion to create a star shape. Place in a pan with the open end facing down and press down with a spatula for three minutes. Turn over and repeat.
To serve, cut in half and stack on top of each other (cheese on top so it melts over the meat) and top with salad tomato, red pickle, lettuce and onion crispies.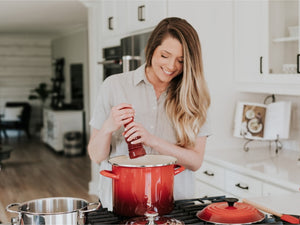 Hungry for more recipes?
Join over 200,000 subscribers in receiving new recipes, tips, offers and a whole lot more.