A Perfect, Quick Low-Calorie Meal, Made From A Get-Ahead Vegetable Tray Bake
It's a perfect veggie combination - sweet and spicy roasted veg and tangy, creamy, slightly melted feta. You know it makes sense.
What makes even more sense, is making your toastie with Lo-Dough. Done this way, your toastie is guaranteed to be low calorie, low carb and high fibre, without a single compromise on the filling! 
Roast off a big tray of veg - all your favourites and keep it in the fridge for a week of quick and simple meals - from wraps to pizzas, salads to soups and more besides.
Check out our roast veg pizza for a bit of inspiration.
Ingredients
Serves 1
1 piece of Lo-Dough
60g of roasted vegetables
50g of crumbled feta cheese
A few sprays of oil
What you'll need
This diet-friendly recipe is possible with:

Original Lo-Dough Bases
Regular price
from £3.49
Out of stock
Method
Preheat your sandwich press/griddle.
Add your roasted veg and feta then close over the lid half of the Lo-Dough.
Spray the sandwich press/griddle with oil, place your Lo-Dough sandwich in and close the press.
Cook for 3-4 mins and serve.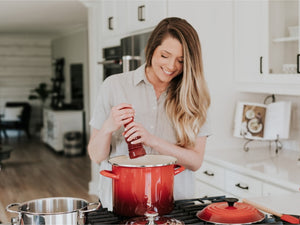 Hungry for more recipes?
Join over 200,000 subscribers in receiving new recipes, tips, offers and a whole lot more.