Although Beetroot has the highest sugar content of all vegetables, they do provide exceptional nutritional value, offering high levels of magnesium, iron, and fibre. Known to boost exercise performance, Scientists believe that the nitrates in beetroot help improve blood flow, cell signalling, and hormones – all of which play a role in increasing the energy levels.
The caramelised shallots in this quick and easy lunch dish add lovely rich, base notes to the dish whilst the goat's cheese gives an oozy chevre blanc with the delicate silky flavours of a farmhouse goat.
The tangy notes of the beetroot add an iron filled 'colour popping blast' to your toastie, and although we prefer to use pickled beetroot, for weight loss purposes, it is generally recommended to use fresh (LCHF and Slimmer's friendly) beetroot.
Enjoyed this? Check out our chicken, brie and cranberry melt recipe for your next tasty lunch under 200 calories!
Ingredients
Serves 1
1 piece of Lo-Dough
½ cooked beetroot (1cm dice)
10g goats cheese
2 banana shallots
A handful of pistachios
A handful of rocket
1 tsp olive oil
1 tsp lemon juice
1 tbsp lemon zest
What you'll need
This diet-friendly recipe is possible with:

Original Lo-Dough Bases
Regular price
from £3.49
Out of stock
Method
Take one piece of Lo-Dough out of the packet (be sure to seal the packet in order to keep your other piece fresh. We use wooden pegs to keep the pack airtight).
Peel and finely slice your banana shallots and fry in olive oil over a medium-high heat. Cook for approx 5-10 minutes until soft, stirring occasionally. Drain on kitchen towel and allow to cool.
Crumble the goat's cheese and leave to one side.
Blitz pistachios in a food processor.
On one side of the Lo-Dough layer the caramelised shallots, beetroot, goats cheese, pistachio and rocket, add lemon juice/zest.
Using your sandwich press (we used the George Foreman Grill), fold the Lo-Dough over and place in the press for approx five minutes until toasted.
Enjoy!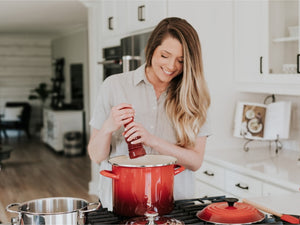 Hungry for more recipes?
Join over 200,000 subscribers in receiving new recipes, tips, offers and a whole lot more.