This low calorie sandwich recipe is to die for, with traditional ham and cheese which can be rustled up in no time. It couldn't really be simpler - use Lo-Dough as your bread alternative and make a world famous sandwich which is low in calories, low carb, and wonderfully high in protein.
Nothing beats the simple things in life and what could be much simpler than a melting cheese and ham sandwich? This takes just minutes to prepare and makes a great lunchtime treat or simple supper. 
Low carb sandwiches are easy with Lo-Dough
Using Lo-Dough instead of bread makes low carb sandwiches a delicious reality. One piece has just 2.2g of carbs, yet is packed with fibre and protein, making bread healthier than ever before. Take a look at the low-carb grilled cheese recipe for more inspiration
Our thousands of Lo-Dough users swear by these nutritional, low calorie alternative meals. Whether you are slimming for focused on your fitness and nutrition, going Lo-Dough can be a real game changer.
Ingredients
1 piece of Lo-Dough
2 slices of ham
75g cheese (any good melting cheese will work - we went with grated mozzarella, but pick your favourite)
Black pepper
4 sprays of Frylight
What you'll need
This diet-friendly recipe is possible with:

Original Lo-Dough Bases
Regular price
from £3.49
Out of stock
Method
Place your ham and cheese on one half of the Lo-Dough and fold the other half over.
Place a frying pan over a low heat and spray with the fry light. Add the sandwich - you may need to hold the lid down for a few moments.
Turn halfway through cooking.
Serve hot with any sauce and garnish of your choice.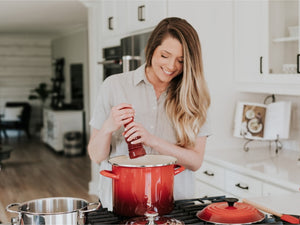 Hungry for more recipes?
Join over 200,000 subscribers in receiving new recipes, tips, offers and a whole lot more.