Low Calorie Hot Cross Buns for Easter and Beyond
These aren't just seasonal Easter treats. By all means, low calorie hot cross buns can be enjoyed at any time of the year. Hosting for friends? Give them a lovely sweet snack and impress them with the fact that they are only 102 calories.
We repeat - 102 calories per muffin.
Also, we are constantly working hard to find new breakthrough recipes for our happy Lo-Dough family, and this is one we are particularly proud of. Give them a try and let us know what you think.
Follow this recipe without the crosses for an all-year-round delightful dessert or snack.
Looking for other low calorie sweet treats? Check out the apple & cinnamon mug cake recipe 
Ingredients
Serves 2
1 piece of Lo-Dough, blitzed to fine crumbs
1 large egg
40ml of semi-skimmed milk
1 teaspoon of vanilla extract
1 teaspoon of butter, unsalted
16g of sweetener
⅕ teaspoon of baking powder
9g (small handful) of sultanas
A pinch of cinnamon
2 sprays of fry-light
What you'll need
This diet-friendly recipe is possible with:

Original Lo-Dough Bases
Regular price
from £3.49
Out of stock
Method
Preheat your oven to 180C/356F/Gas 4.
In one bowl, beat the egg and add the milk and vanilla extract.
In another bowl, mix all the remaining (dry) ingredients.
Add the wet mix to the dry and stir thoroughly. You are looking to make a standard textured cake batter. If another small splash of milk is required, this can be added.
Spray two pots in a muffin tray with the fry-light and divide the mix between them.
Bake for 20 mins at 180C, then a further 15 mins at 160C.
Place on a rack and allow to cool before eating. We decorated ours with Lo-Dough hot-crosses (small strips of Lo-Dough soaked in lightly sweetened milk for a few seconds).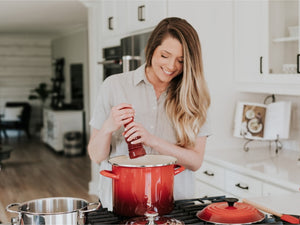 Hungry for more recipes?
Join over 200,000 subscribers in receiving new recipes, tips, offers and a whole lot more.