Low Calorie Mug Cakes with Apple & Cinnamon 
Think filling breakfast, snack or healthy dessert - the choice is yours. 
Lo-Dough mug cakes are impressively low calorie and low-carb and like so many of us who struggle to balance hunger pangs with healthy eating, this seems like a miraculous solution which has taken Lo-Dough users by storm.  
We've had a lot of feedback from people who swear by them as a filling breakfast recipe, though they can make a great mid-day snack or even dessert if you have room. 
Looking for more inspiration? Try our low calorie blackberry and raspberry mug cake here.
Ingredients
1 piece of Lo-Dough, blitzed to fine crumbs
100g (approx 1 peeled & cored) apple, diced
10g butter
1 large egg, beaten
1 tablespoon of fat free yoghurt or milk
A pinch of cinnamon
1.5 teaspoons of sweetener
What you'll need
This diet-friendly recipe is possible with:

Original Lo-Dough Bases
Regular price
from £3.49
Out of stock
Method
Melt the butter in a frying pan and add the chopped apples and 1 teaspoon of sweetener and cook for approx 5 mins until the apples take on a brown, toffee-ish colour. Put in fridge to cool for a few moments.
Add all the other ingredients (including remaining sweetener) to a bowl and mix well. Add the cooled apple.
Put into a mug and cook in a microwave for 2-3 (depending on wattage) minutes.
Take out and leave to stand for a further minute before turning out onto a plate.
Serve with yoghurt for breakfast or low fat, sweetened crème fraîche for a lovely dessert.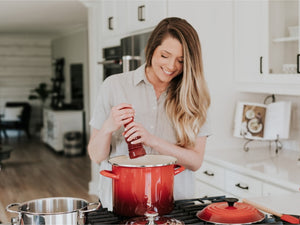 Hungry for more recipes?
Join over 200,000 subscribers in receiving new recipes, tips, offers and a whole lot more.