Low-Carb Cheesecake Topped Brownies - Oh Yes!
We thought we'd take our Lo-Dough brownie recipe in a distinctly exciting direction by combining them with another favourite dessert, the baked cheesecake. The recipe is actually very simple to make and well worth doing - you won't be disappointed with the result! 
Given the decadence of the final cheesecake topped brownie, the macros will come as quite a surprise. Each brownie is only 178 calories, only 11g of carbs, 13.6g of fat. Additionally, the supply you 6g of protein and an impressive 5.3g of fibre! We all need treats every once in a while and when they are as tasty as this, but for those kinds of macros... well, what's stopping you?! 
Making Low-Carb Brownies With Lo-Dough
The image above gives you an idea of how to set up your baking tin for Lo-Dough brownies. 1 piece of Lo-Dough, when blitzed, combined with the other ingredients only fills 1 third of a standard brownie tray. Clever use of greaseproof and foil gets around this issue! 
The cheesecake topping couldn't be simpler - approx. half a beaten egg, 50g of cream cheese, a little sweetener and a splash of vanilla extract - all get mixed up and poured over the uncooked brownie. The whole thing then goes in the oven for just a little more time than our regular brownie. 
These will need to be allowed to cool down - cheesecake is to be eaten cold, so you'll have to be patient!
If you are feeling like a bit of a treat, then this could be the dish for you!
Ingredients
Serves 3
1 piece of Lo-Dough, blitzed to fine crumbs
40g of dark chocolate
2g of cocoa
20g of quality sweetener
1 large egg, beaten
40ml of milk
A few drops of vanilla extract
For the cheesecake topping
50g of cream cheese
Approx 1/3 of a large egg, beaten (any remaining egg can be added to an omelette/scrambled eggs etc)
2 teaspoons of sweetener
A few drops of vanilla extract
What you'll need
This diet-friendly recipe is possible with:

Original Lo-Dough Bases
Regular price
from £3.49
Out of stock
Method
Preheat your oven to 220C/428F/Gas 7.
Add the eggs, cocoa, vanilla extract and sweetener into a bowl and beat with a whisk. Add the Lo-Dough crumbs and mix well.
Melt the chocolate into the milk in a microwave, stirring at 20 second intervals until combined fully. Allow to cool briefly.
Combine the two mixes thoroughly.
If using a standard 8 inch tin, you will need to make an extra wall made out of tin-foil - this mix will fill roughly a third of the tin. Otherwise a small loaf tin or any small tin may be suitable (brownies don't have to be square!).
In another bowl add the cheesecake topping ingredients together and mix well.
Fill the chosen tin with the brownie mix. Then add the cheesecake mix on top and bake for 12-15 minutes. The Cheesecake topping will be a little soft, but will set as it cools.
Leave to cool for at least an hour on a rack and then cut into 3 squares. We decorated ours with a dusting of cocoa and some white chocolate curls, but this isn't necessary if you don't want to. These brownies will keep for up to 3 days - use a sealed box.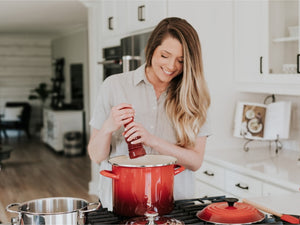 Hungry for more recipes?
Join over 200,000 subscribers in receiving new recipes, tips, offers and a whole lot more.