Low-calorie & low-carb doughnuts are possible - all thanks to Lo-Dough
Using our Lo-Dough bases (blitzed to a crumb in a food processor), you can make incredible low-calorie and low-carb doughnuts, without compromising on flavour. 
Instead of deep-frying, you'll need a doughnut mould - easily available online for a couple of pounds. This means instead of deep-frying, you'll be baking them - which means no frying oil (full of calories and often, trans fats!). 
The ultimate low calorie doughnuts
Our naked doughnuts come in at 42 calories and 1g of carbs... How you top them is up to you... we've gone with:
White chocolate and sugar-free 100s and 1000s (add approx. 100 calories and 10g carbs)
Sugar-free salted caramel and toasted almonds (add approx. 133 calories and 1g carbs). For recipe, click here. 
Rich, dark chocolate and butter ganache, with chocolate sprinkles (add approx. 180 calories and 6g carbs)
To make this recipe, you'll need a 7cm diameter silicone doughnut mould. 
Ingredients
Serves 3
1 piece of Lo-Dough, blitzed to fine crumbs
1 large egg, beaten
30ml of semi skimmed milk
2 dessert spoons of sweetener
A level teaspoon of baking powder
What you'll need
This diet-friendly recipe is possible with:

Original Lo-Dough Bases
Regular price
from £3.49
Out of stock
Method
Preheat your oven to 180°C/356°F/Gas 4.
Add the Lo-Dough, egg, milk, sweetener and baking powder to a bowl and mix well.
Spoon the mixture in into the silicone moulds. You should just slightly under fill the 3 of the moulds.
Bake for 15 minutes then take out, remove from the moulds and allow to cool on a rack.
Dress with any decoration you desire - see above for suggestions.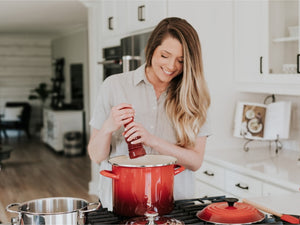 Hungry for more recipes?
Join over 200,000 subscribers in receiving new recipes, tips, offers and a whole lot more.