Combine Two Products From The Lo-Dough Range To Create This Incredible Toastie
Crispy Chicken. Oozy melted cheese. Piquant Dijon mustard. All held together in a Lo-Dough toasted sandwich. Sometimes the simple things in life really are the best and this recipe falls firmly in that category.
Next time you bread up some chicken with your Lo-Dough crumb, bread an extra piece and refrigerate overnight. You can use it the next day in this amazing recipe! 
Ingredients
Serves 1
1 piece of Lo-Dough
60g of grated mozzarella
½ a piece of cooked, breaded chicken (made with our Southern Style Coating), sliced
Small handful of rocket leaves (optional)
What you'll need
This diet-friendly recipe is possible with:

Lo-Dough Southern Style Coating
Regular price
£0.99
£4.59
Out of stock
Method
Preheat your sandwich press/griddle.
Add your breaded chicken and cheese (and rocket if using), smear some mustard on the other half (if using) then close over the lid half of the Lo-Dough.
Spray the sandwich press/griddle with oil, place your Lo-Dough sandwich in and close the press.
Cook for 3-4 mins and serve.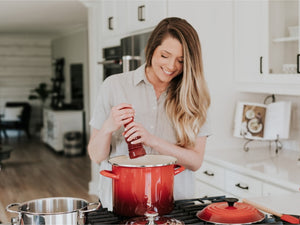 Hungry for more recipes?
Join over 200,000 subscribers in receiving new recipes, tips, offers and a whole lot more.