An Incredibly Indulgent Deep-South Classic
A lesser well known southern classic is the chicken fried steak - a beautiful sirloin steak coated in bread crumbs and cooked until golden brown. The name comes from the coating applied to the steak - there is no actual chicken in this dish!
Why this is perhaps lesser known than other fried meat dishes from the south beats us! It is totally delicious and absolutely worth trying at home! It's super quick to make - make up your seasoned bread crumbs, coat the steak in beaten egg and then the crumbs, fry in a hot pan for 60-90 seconds either side and then finish for 5 minutes in a medium oven for a perfect medium steak -  crispy crumbs on the outside and a perfectly pink steak all the way through.
To make a balanced meal, we have served ours with classic collard greens - spring greens (our nearest equivalent to their US cousin), cooked with bacon, garlic and chilli flakes in chicken stock for around 30 mins until super tender. Get these on ahead of your steak and it can all come together in the last few minutes. A few of our sweet potato fries wouldn't go amiss either.
Quick tip - any liquid you drain from the greens should be saved and used as the base of an amazing, nutritious soup - it can be frozen until you need it.
Keto Steak
Traditionally, this dish is served with a rich cream-gravy. If you want to make this meal keto, we recommend cooking your steak in butter, serving the cream gravy (just cream with a little chicken stock seasoning - deglaze the pan you fried your steak in) and using fatty bacon in the collard greens. The idea here is to up the amount of fat you have in the dish to give you the much-needed energy you require in the absence of carbs. 
Ingredients
Serves 1
For the steak
1 piece of Lo-Dough, blitzed to crumbs
1 Sirloin steak, fat removed
1 small egg, beaten, for egg-wash
Any dried herbs/spice seasonings of your choice
20 sprays of oil
Salt & pepper
For the greens
70g of spring greens
50g of lean smoked bacon
1 clove of garlic
A pinch of chilli flakes
1 pint of chicken stock
2 sprays of oil
What you'll need
This diet-friendly recipe is possible with:

Original Lo-Dough Bases
Regular price
from £3.49
Out of stock
Method
Preheat your oven to 180C/Gas mark 4.
In a saucepan, quickly sweat the bacon lardons and garlic in a couple of sprays of oil, before adding the rest of the ingredients for the greens. Simmer for approx. 30 mins, until the greens are tender.
Season your steak with salt and pepper and add to a bowl with the beaten egg and ensure it is well coated. In a separate bowl add the crumbs and any herbs/spices of your choice. Add the egg-coated steak to the crumbs and shake to coat well. Press the crumbs on with your hands for a firmer thicker crust.
Spray a pan with around 20 sprays of oil and bring up to a high heat. Cook your steaks for 60-90 seconds on each side, until the crumbs are crispy and golden.
Place the steaks in the oven for no more then five mins, to continue cooking through the middle.
Serve alongside the greens.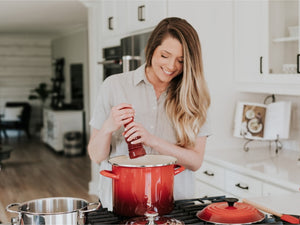 Hungry for more recipes?
Join over 200,000 subscribers in receiving new recipes, tips, offers and a whole lot more.