Healthier Fries - A Perfect Moreish Side
A common swap for potato chips is a portion of sweet potato fries. Though pound for pound not dissimilar in calories than normal potatoes, they contain several more vitamins and minerals and so you are getting much more out of them nutritionally speaking - the 4g of fibre in a medium sized sweet potato is not to be sniffed at. Serve that with any Lo-Dough pizza and you will be guaranteed at least half of your recommended fibre intake in one meal. The sweet potatoes crisp up beautifully in a tray in the oven and take on the flavour of any garlic and herbs you put with them - no deep frying required, but maximum flavour gained. There is no shortage of dishes that these would be great alongside... Southern Fried Chicken, Pizza, Burgers... this list could go on. 
Make Them Your Way
You can pimp up your sweet potato fries in any number of ways. Any harder herb will work - think thyme, rosemary, sage... even bay leaves scattered around will subtly perfume your fries as they cook. If you like a little curry flavour (chips and curry sauce anyone?!), a dusting of curry powder will work really well. Heat? Some dried chilli flakes will do the job nicely. Recipes (especially with savoury food) are just guides - Let your creativity come out in the kitchen!
Ingredients
Serves 2
2 medium sweet potatoes, cut into chips
4-5 cloves of garlic, lightly crushed under a knife (but still in their skins)
A good few sprigs of thyme
A pinch of chilli flakes
Salt & pepper
10 sprays of oil
Method
Preheat your oven to 200C/392F/Gas mark 6.
Put all the ingredients in a baking tray and spray with the oil. Shake and turn over in the oil until everything is well coated.
Bake in the over for 30-40 mins or so, or until crispy, turning and moving halfway through. Serve hot.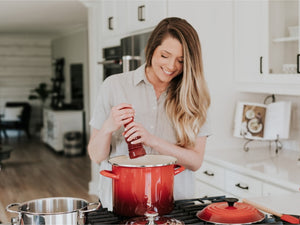 Hungry for more recipes?
Join over 200,000 subscribers in receiving new recipes, tips, offers and a whole lot more.