This warming winter gratin is a perfect way to enjoy pumpkin/squash while it's in season
Pumpkins are not just for decorative carving! It's a delicious and underrated vegetable, full of flavour and fantastic nutritional benefits. There are many varieties too - from the more ubiquitous butternut squash to the varieties such as Crown Prince and Onion squash. They all have subtly differing flavours and are worth exploring. 
This incredible low-cal, gluten free gratin is a fantastic family dish that will warm you up on a cold night, while providing plenty of fibre to boot. 
Ingredients
Serves 6
For the topping
60g (just under half a bag) of Lo-Dough Southern Style Coating
70g of parmesan, grated
For the gratin
1 butternut squash, peeled and cut into 1 cm chunks
200g cabbage), shredded
1 onion, finely sliced
2 cloves of garlic, finely chopped
400g of half-fat creme fraiche
2 tablespoons of wholegrain mustard
1 veggie stockpot/cube
Mixed herbs (we went with thyme and sage)
Salt & pepper
A few sprays of oil
What you'll need
This diet-friendly recipe is possible with:

Lo-Dough Southern Style Coating
Regular price
£0.99
£4.59
Out of stock
Method
Preheat your oven to 200C.
Add your pumpkin/squash and cabbage to a pan with enough boiling water to just cover them. Add a pinch of salt and boil for 3-4 minutes. Drain.
Gently fry the onion, herbs and garlic until softened, then add the creme fraiche and mustard. Bring to the boil to thicken. Add all the veg to the sauce and stir until coated. Check for seasoning and transfer to a baking dish.
In a separate bowl, mix the cheeses and the crumb together. Scatter the cheesy crumb over and bake for approx. 30-45 minutes until the top is golden and the veg and sauce a bubbling underneath. If the pumpkin needs any additional cooking, cover with foil to stop the top burning. Serve when ready.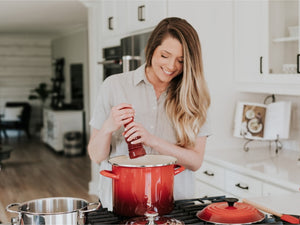 Hungry for more recipes?
Join over 200,000 subscribers in receiving new recipes, tips, offers and a whole lot more.