This nutrient & flavour packed gratin is great as a main or a side dish
When we say rainbow veg we mean it - celeriac, carrot, broccoli, onion, fennel and beetroot are all packed into this dish, alongside some delicious chorizo and a Lo-Dough southern style crumb and cheese topping. 
So per portion - what are the calories of all this? Well, its 182 kcal, 15g of carbs and 8g of fibre - and if that hasn't got your attention, we don't know what will!
Ingredients
Serves 4
The Topping:
45g of Lo-Dough Southern Style Coating
50g of parmesan, grated
The Vegetables & chorizo
200g of celeriac, cut into 1.5-2cm chunks
50g of broccoli, broken into florets
1 carrot, cut into chunks
100g of beetroot
40g of chorizo
The Sauce
Half a bulb of fennel, finely sliced
1 small red onion, finely sliced
1 clove of garlic, finely chopped
1 medium chilli, finely chopped
50g of creme fraiche
1 veggie/meat stockpot/cube, made up with water
Mixed herbs (we went with thyme and parsley)
Salt & pepper
A few sprays of oil
What you'll need
This diet-friendly recipe is possible with:

Lo-Dough Southern Style Coating
Regular price
£0.99
£4.59
Out of stock
Method
Preheat your oven to 200C.
Add all your veg and chorizo to your serving tray (we used a 30x20cm roasting tin). Spray your veg/chorizo and roast for approx. 30 minutes until browned.
While the veggies roast, gently fry the onion, fennel, garlic and chilli until softened then add the creme fraiche and the stock. Bring to the boil to thicken. Season to taste.
Take out the roasted veg then pour the sauce over the veg. Scatter over the Southern Style Coating and cheese and bake for approx. 25 minutes until the top is golden and the veg and sauce a bubbling underneath. Serve.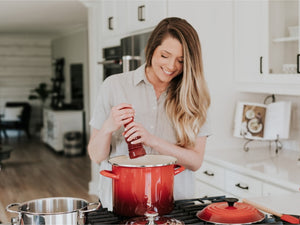 Hungry for more recipes?
Join over 200,000 subscribers in receiving new recipes, tips, offers and a whole lot more.