With Lo-Dough you could be looking at cheesecake for less than 200 calories. Using a combination of Lo-Dough crumbs, low-fat cheeses and sweetener, it is possible to make one of the lowest-calorie, yet still tasty cheesecakes known to mankind! 
Here, we've gone with blueberry, but there are countless options - Any soft fruits, cooked hard fruits, lemon, chocolate - the list goes on and on - just be sure to follow this method for the base and the cheesecake mix and you can take this crowd-pleasing dessert in any direction you like. 
For our blueberry cheesecake, we have also made a simple blueberry sauce (the method for this kind of sauce would bed the same for any soft fruit). This can be omitted if you are avoiding cooked fruit.
Another tip if using low-fat cheeses. They will be must softer set. The way around this is a leaf of gelatine, though serving in a glass also gets around this! For a chocolate cheesecake, this is less of an issue as the chocolate will firm the mix up as it sets. 
Keto Cheesecake?
For a zero sugar keto version, go with a combination of full-fat soft cheese and mascarpone. Increase the butter (an extra teaspoon or so) in the Lo-Dough crumb base. Go easy on the fruit and avoid the reduced fruit sauce - maybe even go for a dark chocolate cheesecake? This way you will keep the carbs down to approx 1-2g and be left with an incredibly indulgent sweet treat, whilst still staying on plan.
However you like it, make your cheesecake with Lo-Dough for the lowest-sugar, lowest-carb and ultimately lowest-calorie end result. 
Looking for a chocolate dessert? Take a look at the chocolate dessert pizza  
Ingredients
Serves 1
For cheesecake
½ piece of Lo-Dough
1 teaspoons butter
1 teaspoons of skinny syrup
50g quark
50g 'light' soft cheese
2 teaspoons of sweetener
Vanilla seeds, paste or extract to taste
20g of blueberries
For blueberry topping
40g of blueberries
2 teaspoon of erythritol sweetener
What you'll need
This diet-friendly recipe is possible with:

Original Lo-Dough Bases
Regular price
from £3.49
Out of stock
Method
Blitz your Lo-Dough to fine crumbs in a food processor.
Melt the butter in a pan on a medium heat and add the Lo-Dough crumbs a teaspoon of sweetener, a squirt of the skinny syrup and keep stirring for 4-5 minutes until the crumbs have turned golden and crisp.
Add the crumbs to the bottom of a glass and press down with the back of a spoon.
While the crumbs set firm, mix the quark, cheese, vanilla and 2nd spoon of sweetener in a bowl.
Once ready, add the sweet cheese mix on top of the crumbs. Once this all in, smooth off the top and then push your blueberries in - put in fridge to set for 2 hours minimum.
Make the topping - boil the berries and the sweetener with a small splash of water for approx. 10 ten minutes until it begins to cook down and look syrupy. Then strain through a sieve and allow to cool.
Once cool, pour over the cheese cake and allow to set for a further 30 minutes. Serve.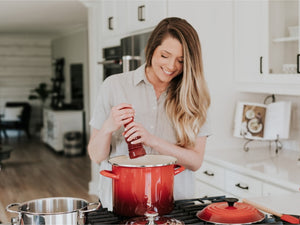 Hungry for more recipes?
Join over 200,000 subscribers in receiving new recipes, tips, offers and a whole lot more.