Southern Fried Drummers a big favourite with kids and adults alike. Keep it low-sugar, low-calorie & gluten-free with Lo-Dough
Simple and delicious, BBQ sauce can be a delicious accompaniment and flavouring for white and red meat. That said it can be a little sugar-laden, so finding low-sugar versions is a good start (we've used Blend Bros brilliant Smokey BBQ sauce), or just enjoying it as a once-in-a-while treat with other reduced-carb products is a great way to keep the carbs down.
The Lo-Dough Southern Coating is perfect for this and we've got a great method for making crunchy BBQ chicken drummers. 
Ingredients
Serves 2
Lo-Dough Southern Style Coating (enough to 6 drummers - approx 2 portions)
6 chicken drumsticks, skinless
1 egg, beaten
45ml Blend Bros BBQ sauce
What you'll need
This diet-friendly recipe is possible with:

Lo-Dough Southern Style Coating
Regular price
£0.99
£4.59
Out of stock
Method
Preheat your oven to 190C.
Marinate your drummers in around half the blend bros sauce. Make little cuts to the bone to allow the sauce in coat and massage. Leave for a minimum of 1 hour, or overnight.
You will need two dishes. Add some of the coating (enough to coat the 6 drumsticks) to one and beat an egg (or egg white) in the other.
Dip your chicken in the egg and then drop into the crumb. Shake until completely covered.
Place on an oven tray, spray with a little oil and bake at for approx. 30-35 mins. Ensure the chicken is fully cooked through before serving.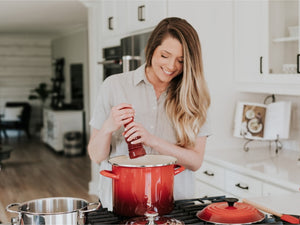 Hungry for more recipes?
Join over 200,000 subscribers in receiving new recipes, tips, offers and a whole lot more.