gluten-free
vegetarian
Low-Calorie Breaded Oyster Mushroom Sandwich
Share
Facebook
Twitter
WhatsApp
Email
Incredible flavour for very few calories. This is what meals made with Lo-Dough are all about!
This incredible veggie sandwich is super low-calorie and super-tasty!  The oyster mushroom is as meaty as any steak and when paired with our Southern Style Coating and garlic mayonnaise, you've got yourself a flavour explosion! That it's low in carbs and calories is really just a bonus!
Ingredients
Serves 1
1 Lo-Dough base
1 portion Southern Style Coating
1 egg, beaten
3-4 whole oyster mushrooms (depending on size)
1 tablespoon of mayonnaise
1 small clove of garlic, crushed and mixed into the mayo
A few mixed salad leaves
1 salad tomato, sliced
What you'll need
This diet-friendly recipe is possible with:

Lo-Dough Southern Style Coating
Regular price
£0.99
£4.59
Out of stock
Method
Preheat your oven to 220C.
You will need two dishes. Add one portion of the coating to one and beat an egg/egg white in the other.
Dip the mushrooms in the egg and then drop into the crumb. Shake until completely covered. Repeat the egg and crumb process a second time to create a thick coating.
Place on an oven tray, spray with a little oil and bake at 220C for approx. 15 mins.
Place into the wrap with your salad and garlic mayonnaise and serve.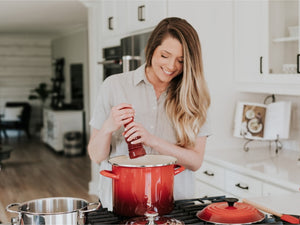 Hungry for more recipes?
Join over 200,000 subscribers in receiving new recipes, tips, offers and a whole lot more.