Low Calorie Cheese & Bacon Breakfast Fritter
Breakfast done right is breakfast done with Lo-Dough breakfast fritters. On the basis that bacon will pretty much improve anything in the flavour stakes. We thought we'd throw some bacon into our fritter mix and see what happened. 
Well, a taste-sensation is what happened and still for a seriously low calorie count considering the ingredients... Serve alongside your favourites - egg, mushrooms, grilled tomatoes and beans, but for a fraction of the usual English breakfast calorie count.
Looking for more breakfast ideas? Browse Lo-Dough breakfasts here.
Ingredients
1 piece of Lo-Dough, blitzed to a crumb
1 large egg, beaten
½ an onion
1 small clove of garlic
10g ricotta cheese
20g Cheddar cheese
2 slices of lean bacon, sliced into small pieces
Chopped fresh herbs (we used a teaspoon each of thyme, parsley and chives)
6 sprays of fry-light
Salt & pepper
What you'll need
This diet-friendly recipe is possible with:

Original Lo-Dough Bases
Regular price
from £3.49
Out of stock
Method
Oil a pan with 3 sprays and soften the onion and bacon gently for a 10 minutes.
While the onions and bacon fry, add your Lo-Dough, egg, both types of cheese, herbs and seasoning to a bowl and mix. Once cool, add the bacon and onions too.
Shape the mixture into two fritters and using the remaining sprays, gently fry the fritter on both sides until golden brown and cooked through (for approx. 3 minutes per side).
Serve with any of your breakfast favourites.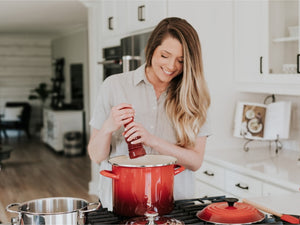 Hungry for more recipes?
Join over 200,000 subscribers in receiving new recipes, tips, offers and a whole lot more.