Low calorie breakfast recipes from Lo-Dough
Using just one piece of Lo-Dough, we have managed to re-create a takeaway English breakfast classic sandwich, but with the difference being that ours clocks in at just 319 calories. Sausage, egg, crispy bacon, cheese and a Lo-Dough breakfast fritter stack up inside two smaller pieces of Lo-Dough. 
There are a few different things to pull together from a cooks point of view, but no more than something like a full English breakfast - as with that, it's all about having individual items prepared and getting timings right.
For the neat circular shape, you will need a 10cm ring/cutter.
Looking for more low calorie breakfast recipes? We're proud to show you more. 
Ingredients
1 piece of Lo-Dough
1 Heck Sausage, skinned and squashed down into a round patty
1 piece of streaky bacon
1 large egg
1 cheese single
Spray oil/butter
For the fritter
A quarter of an onion, finely chopped and lightly fried
Half an egg, beaten
20g of quark
What you'll need
This diet-friendly recipe is possible with:

Original Lo-Dough Bases
Regular price
from £3.49
Out of stock
Method
Using a 10cm cutter, cut out two circles of Lo-Dough, cover with cling film and put aside. Blitz the rest of your Lo-Dough in a food processor to make fine crumbs.
In a bowl, mix the crumbs, the fried onion, the half egg, the quark and some salt and pepper. Flatten into a patty to make a small Lo-Dough fritter.
Grill your bacon and your sausage patty. You want the bacon crispy for this recipe. Set aside.
On a very low heat, add the spray oil/butter and gently fry the fritter. Set aside.
Finally, brown off the two circular pieces of Lo-Dough you put aside earlier.
Arrange in a stack - the order is completely up to you.
Warm through in a oven at around 180C/356F/Gas 4 for approx 5 minutes just to bring everything back up to temperature and to melt the cheese.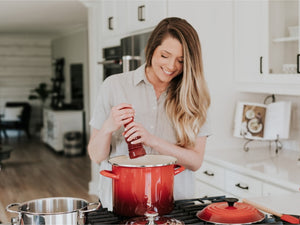 Hungry for more recipes?
Join over 200,000 subscribers in receiving new recipes, tips, offers and a whole lot more.