Low-Calorie Chicken Burrito Recipe
This is a fantastic left-overs recipe if you happen to have made our Fajitas the night before. Combining the chicken fajita mix, guacamole and salsa with a tablespoon of refried beans and around 25-30 grams of cooked rice results in another satisfying and tasty meal, low on calories and low on any unwanted food waste. 
You could also try making this with our chilli con carne recipe 
Ingredients
1 piece of Lo-Dough
2 tablespoons of leftover chicken fajita mix (finely chop the chicken)
40g of guacamole (1 tablespoon)
30g of salsa (1 tablespoon)
30g of cooked rice
50g re-fried beans
4 sprays of fry-light oil
What you'll need
This diet-friendly recipe is possible with:

Original Lo-Dough Bases
Regular price
from £3.49
Out of stock
Method
Place your Lo-Dough on a flat surface and spread the re-fried beans down the centre in a line running from the very end to about 3cm (1 inch) away from the bottom of the wrap. You need to leave a space at the end for the final fold.
Using the line of re-fried beans as a guide, add your cooked rice, then guacamole, then salsa and add your chicken fajita mix last.
Oil up either a griddle pan or sandwich press with the fry light spray and heat up to a medium-high heat.
Fold up your burrito starting with the bottom edge and then bringing the two sides over each other in the centre.
Cook in the griddle or sandwich press for 10 minutes, starting with the fold side down to help seal. If using the griddle, turn over after 5 minutes. Serve hot.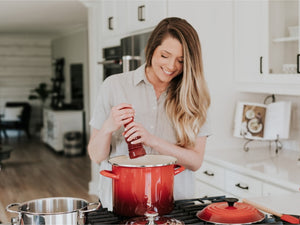 Hungry for more recipes?
Join over 200,000 subscribers in receiving new recipes, tips, offers and a whole lot more.