A school dinner recipe throwback that comes with added health benefits, our slimming friendly nuggets and chips are a must-try meal
Retro foods are all the rage and this school dinner meals classic is a brilliantly low calorie method for taking a trip down memory lane or feeding the kids their dinnertime favourites in a healthier way. Not only that, but you get to make sure the chicken is good quality and that no trans fats are used in their preparation. 
A couple of quick steps any our nuggets are ready to bake - along with the chips this simple meal can be ready in around 45 minutes. 
Deliciously healthy chicken nuggets
Using our Southern Style Coating, you can make delicious oven-baked nuggets and serve with our foolproof slimming chips recipe (leave the skins on for extra fibre and flavour). Other sides might be beans or peas - go with whatever you fancy. Just don't forget the dips!
Ingredients
Serves 1
Lo-Dough Southern Style Coating - 1 portion
100g of chicken mini fillets (approx. 5) or one breast cut into nuggets
1 egg, beaten
What you'll need
This diet-friendly recipe is possible with:

Lo-Dough Southern Style Coating
Regular price
£0.99
£4.59
Out of stock
Method
Make you chicken up according to the packet instructions (egg and coat the chicken with our Southern Style Coating).
Spray with a little oil. Place in the oven at 220°C for around 20-30 minutes
While the chicken cooks, slice and make up your salad.
Once cooked, serve immediately.
You can use mayonnaise to stick the crumbs instead of egg. This will up the fats (ideal for keto) and add extra flavour.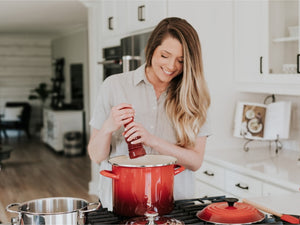 Hungry for more recipes?
Join over 200,000 subscribers in receiving new recipes, tips, offers and a whole lot more.