Low Calorie Chocolate Pancakes Made Possible
Do you like pancakes? Sure you do! Do you like Chocolate? Of course you do. Well, now you can put the two together with Lo-Dough for just 198 calories. Yes, you heard that right - 198 calories for chocolate pancakes, fruit and chocolate shavings! This is a serious dessert - indulgent and very moreish. You'll need to plan 30 minutes in advance - the Lo-Dough needs soaking in its chocolatey bath, but beyond that, it's incredibly easy to make. 
The ice cream we have chosen is the delicious and low calorie 'Oppo Madagascan Vanilla'. A scoop of this beauty with our chocolate pancakes is just 227 calories. 227 calories for chocolate pancakes, fruit and ice-cream. We wholeheartedly recommend it - on taste and as a low-calorie option. We stacked ours with loads of strawberries and rasberries too!
Interested in other dessert recipes? See this wonderful low carb tiramisu for the perfect after-dinner treat or snack 
Lo-Dough is:
Gluten free
Fat free
Sugar Free
High protein
Dairy Free
Vegetarian
Only 39 calories per piece
Try your £5 sample pack today and make pizzas, wraps, desserts and pastry like never before. Shop now 
Ingredients
Serves 1
1 piece of Lo-Dough, cut into quarters
1 large egg, beaten
2 tablespoons of Cadburys Highlights, Chocolate powder
1 teaspoon of cocoa
40ml of milk (semi-skimmed)
2-3 large strawberries, sliced
10 raspberries, sliced in half
A few gratings of dark chocolate
Spray oil/butter
What you'll need
This diet-friendly recipe is possible with:

Original Lo-Dough Bases
Regular price
from £3.49
Out of stock
Method
Add the eggs, milk, chocolate powder and cocoa to the eggs and mix. When combined, add your Lo-Dough.
Leave this mix in the fridge for a minimum of 30 minutes, for the Lo-Dough to absorb the liquid.
On a very low heat, add a good coating of the spray oil/butter to the pan and gently fry the pancakes until the mix is cooked around and within the Lo-Dough (approx 8-10 minutes).
Stack up with the fruit and grate over a little chocolate. Serve with a scoop of Oppo Vanilla Ice Cream, which only adds on 37 calories.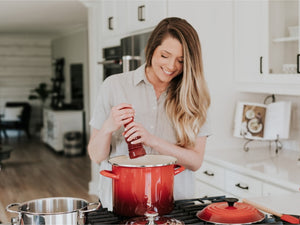 Hungry for more recipes?
Join over 200,000 subscribers in receiving new recipes, tips, offers and a whole lot more.