Low-Calorie Sausage Rolls With a Spanish Twist
Our chorizo sausage rolls are to die for! The slightly spicy, smokey, garlicky sausage lends an amazing savoury punch to the proceedings. As ever with Lo-Dough, flavour is king! 
By swapping out pastry for Lo-Dough, you are removing a huge amount of fat and nearly all the carbs usually found in a sausage roll. If trying to stick to a low-carb or low-fat diet, it's those qualities that normally makes pastry a no go area, or at the very least, a rare treat. Egg washed and baked Lo-Dough is a great pastry replacement. Just roll up your sausage meat (mixed with the chopped chorizo) in your Lo-Dough and bake. 
A Simple Recipe For Sausage Rolls
One piece of Lo-Dough will make one standard size roll and 2 sausage roll bites. If you just wanted the one sausage roll, you could blitz and freeze the remaining Lo-Dough for use in any number of our crumb-based recipes. 
Easy to make and ready in 30 minutes - you should definitely give these a go.
While they're cooking, why not knock up a batch of low-sugar onion chutney. It's a perfect match with this dish. 
Ingredients
Serves 1
1 piece of Lo-Dough
3 Heck chicken sausages, taken out of their skins
50g of chorizo, finely diced
1 egg, beaten, for egg-wash
Salt & pepper
What you'll need
This diet-friendly recipe is possible with:

Original Lo-Dough Bases
Regular price
from £3.49
Out of stock
Method
Preheat your oven to 200C/392F/Gas mark 6.
Slice your Lo-Dough down vertically into 3 long strips, with the middle strip being wider than the two edge strips.
Mix the chopped chorizo with the sausage meat and divide amongst the strips. The larger strip will just be a standard sausage roll. The edge pieces will make sausage roll bites. Roll accordingly.
Glaze with a little egg-wash and season with the salt and pepper. You can add chopped herbs or sesame seeds for decoration.
Bake for 20-25 minutes until golden brown and the sausage is cooked through. For a even browner finish, repeat the egg wash once or twice during cooking .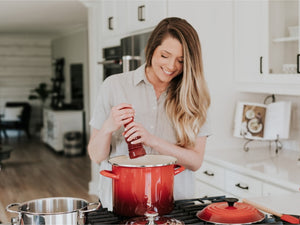 Hungry for more recipes?
Join over 200,000 subscribers in receiving new recipes, tips, offers and a whole lot more.