Revolutionise your cooking with low calorie pastry alternatives 
Can pasties be good for you? Oh yes, they certainly can.
This is pastry done like never before. This creamy chicken pasty is done with Lo-Dough as a pastry alternative to create a low calorie, high protein and high fibre meal which promotes healthy eating. 
A creamy chicken pasty from the high street is loaded with fat, carbs and calories that are a no no if you are taking care of your health and weight. How amazing then to be able to revolutionise pastry forever!
This creamy chicken pasty comes in at under 250 calories and yet is packed full of chicken - with flavoursome, mustard-like, creamy sauce. It's easy to make too - most of the cooking time below involves leaving well alone in the oven. 
Eat one on the fly as a quick meal, or serve alongside some vibrant greens for a perfectly balanced and tasty meal. 
Note: the picture above shows two pasties - one is as much as you'll need, trust us! 
Inspired by using Lo-Dough as your pastry alternative? Take a look at our collection of healthy pastry recipes. 
Ingredients
Serves 1
1 piece of Lo-Dough
½ chicken breast
¼ an onion, sliced
½ a clove of garlic, chopped
80g of Philadelphia - Lightest
½ teaspoon of english mustard
4-6 sprays of fry-light
½ teaspoon of chopped herbs
A little olive oil/1 egg, beaten
Salt & pepper
What you'll need
This diet-friendly recipe is possible with:

Original Lo-Dough Bases
Regular price
from £3.49
Out of stock
Method
Preheat your oven to 180C/356F/Gas 4.
Spray a pan with 3 sprays of fry-light and add your chicken. Cook until lightly golden on a medium heat. Then add your onion and garlic and cook until the onions have softened.
Add in the Philadelphia and the english mustard, plus a small splash of water to loosen. Cook for a few minutes until bubbling. Season with salt and pepper and allow to cool a little.
Spoon the filling into the middle of the Lo-Dough and with a little water, damp the very edge of the disc, before folding over and pushing together. Use your fingers or press gently with a fork.
Brush with oil, or a little beaten egg. Sprinkle with pepper and herbs and place in oven on a tray. Turn once half-way through cooking.
Serve piping hot.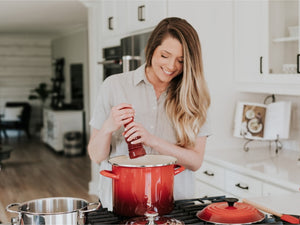 Hungry for more recipes?
Join over 200,000 subscribers in receiving new recipes, tips, offers and a whole lot more.