Low Calorie Egg Custard Tart - 

Delicious dessert for 370 calories 

This egg custard tart tastes so much better than supermarket bought ones, but is only 370 calories for the whole thing. Super low-calorie and high in protein, this tart is the ideal ending to any meal or dinner party, or the perfect indulgent snack. 

Fantastic recipe courtesy of @slimminglolliegoggler_sw
Looking for something more chocolatey? Check out the low calorie chocolate dessert pizza  
Ingredients
Serves 1
1 piece of Lo-dough
3 medium eggs
1 vanilla Mullerlight
100ml semi-skimmed milk
2 tbsp Stevia Sweetener
Frylight/Low calorie cooking spray
Cooking beans (for holding shape)
What you'll need
This diet-friendly recipe is possible with:

Original Lo-Dough Bases
Regular price
from £3.49
Out of stock
Method
Spray a tin with butter Frylight, place a piece of Lo-Dough into it and top with cooking beans to hold shape. Cook for 5 mins on 180°.
While that's cooking mix 3 eggs, 1 vanilla Mullerlight, 100ml semi skimmed milk and 2 tbsp sweetener.
Take tin out of oven and remove cooking beans. Pour in the mixture onto the Lo-Dough and sprinkle nutmeg over the top.
Cover loosely with tin foil and return to the oven for around 30 to 40 minutes on 180°, or until egg mixture sets.
Cool before serving.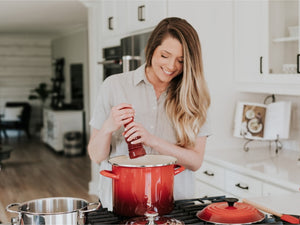 Hungry for more recipes?
Join over 200,000 subscribers in receiving new recipes, tips, offers and a whole lot more.