A hoisin duck wrap that is good for you?
Here's another case of Lo-Dough bringing the calories of your takeaway favourites down by around half their usual amount.
Hoisin duck wraps made with Lo-Dough transform their status of calorific starter into a satisfying meal - these wraps are high in protein, fibre and importantly high in taste.
Most shop-bought duck legs come in packs of two - the meat from these will give you enough meat for 3 wraps - we recommend slow-roasting them all together and then having something in the fridge to reheat or have cold in wraps taken to work. You'll be the envy of your colleagues!
Low calorie meal ideas for when you are on the go.
With Lo-Dough you can eat satisfying food right through the day. Get inspired - check our Honey & Lemon Chicken Wrap here.
Ingredients
1 piece of Lo-Dough
2 duck legs
A teaspoon of Chinese five-spice
15g of hoisin sauce
A spring onion, finely sliced
50g cucumber, sliced into batons
Salt & pepper
What you'll need
This diet-friendly recipe is possible with:

Original Lo-Dough Bases
Regular price
from £3.49
Out of stock
Method
Preheat your oven to 150C/302F/Gas mark 2.
Season your duck legs with salt, pepper and the five-spice. Place on a rack and sit the rack in a roasting tray. Pour about 1cm of water under the duck to create steam and keep the duck moist while the skin on top crisps. Cook for approx. 1 hour.
Once you can handle the duck, use a knife and fork to cut the duck away from the bone and shred it roughly. Take about 1 third of this shredded meat per wrap.
Gently toast your Lo-Dough for 15-20 seconds in a hot pan. Take out and smear the hoisin sauce down the middle.
Add your sliced salad vegetables and the duck and wrap up. Try serving with a crunchy, Asian-style side-salad for a balanced and nutritious meal.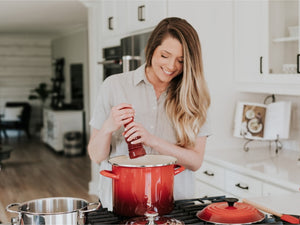 Hungry for more recipes?
Join over 200,000 subscribers in receiving new recipes, tips, offers and a whole lot more.