Low Calorie Lamb Kofta Kebabs are Now Possible
Don't let the idea of kebabs and calories put you off this takeaway classic - with Lo-Dough you can indulge stodge-free.  
Load up on spicy lamb, fresh salad and sauce - this is a low-calorie, low-carb kebab that will satisfy any Friday-night craving with its flavour-packed filling.
Kofta, generally consisting of minced or ground meat, is a family of meatball  dishes found in South Asian, Middle Eastern, Balkan, and Central Asian cuisines.
Lamb kofta dishes are especially popular and are cooked in gravy and spices to your taste. Despite being known in Europe as a more unhealthy, fast food dish, they can very much be made to make a decent hearty meal. They are as healthy as ever when you use Lo-dough as your bread alternative.
Cooking with lamb? Check out the Lo-Dough Moroccan Lamb Flatbread recipe here
Ingredients
1 piece of Lo-Dough
1 shop bought lamb kofte (approx 80g)
35g of yellow pepper (1/5 of a pepper), sliced
1 whole tomato, sliced
30g of red onion, sliced
25g of mixed salad leaves
1 small clove of garlic, crushed
1 tablespoon of fat-free yoghurt
1 tablespoon of harissa (or any other chilli sauce of your choice)
2 sprays of fry-light oil
What you'll need
This diet-friendly recipe is possible with:

Original Lo-Dough Bases
Regular price
from £3.49
Out of stock
Method
Spray a griddle pan with the fry light, put on a medium-high heat and place your kofte on. Cook for 15 minutes, turning half way through.
When the kebab is cooked, put on a plate and leave to rest while you warm your Lo-Dough on the hot griddle for a 30 seconds or so.
When the Lo-Dough is ready, arrange the leaves and prepared salad ingredients on top, followed by the kebab.
Mix the crushed garlic with the yoghurt and drizzle over the kebab. Blob/drizzle the harissa paste over after this.
Serve hot and enjoy.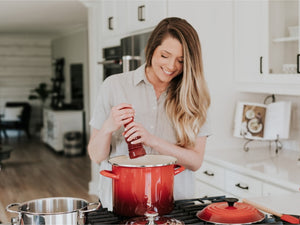 Hungry for more recipes?
Join over 200,000 subscribers in receiving new recipes, tips, offers and a whole lot more.