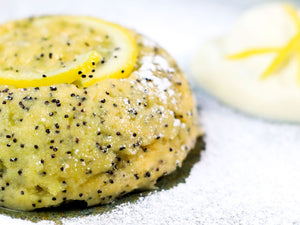 gluten-free
vegetarian
Low Calorie Lemon & Poppy Seed Mug Cake
Share
Facebook
Twitter
WhatsApp
Email
An Incredible Low-Carb & Low-Calorie Mug Cake
If you like your desserts lemony, then have we got the one for you! Using Lo-Dough in place of the flour and swapping sugar for quality sweetener means you can keep the carbs and ultimately the calories right down without compromising on flavour. This is all about the lemon - juice, zest, and even a blob of lemon curd in the middle. On top of that, the poppy seeds add a nice little flavour of their own, as well as a little texture. 
This would be great as a breakfast or a dessert - in fact, given the nutritional composition, you can pretty much eat this any time you like. 10.3g of fibre is an enormous contribution to your recommended daily allowance, so expect to be more than full for the morning or the rest of the night after eating it. You can serve it just as it is, or with a little yoghurt for breakfast, or creme fraiche for dessert. One particularly lovely thing to try is stirring a spoon of lemon curd in with your accompaniment to keep the lemon flavour running right the way through the dish.
If you like, you can add a thin slice to the bottom of the mug before you put your cake mix in, but this isn't necessary for the recipe - just a nice aesthetic extra!
Low-Calorie Mug Cakes
Mug cakes (yes, made in a mug) give you a breakfast, mid-afternoon or even dessert treat in minutes. By blitzing your Lo-Dough to a crumb and adding a few basic ingredients (an egg, a spoon of yoghurt, sweetener and some fruit/nuts/chocolate), you can have a moist sponge cake, cooked in the microwave in under 3 minutes. 
Pro Tip: Take the mixture in a mug to work with you - just cover with a piece of cling film. Somewhere mid-morning, blow your colleagues away with your microwaved breakfast, turned out of the mug, steaming and delicious!
For more mug cake inspiration, check out the breakfast and dessert sections of our site for an ever-growing selection of recipes to try.
Ingredients
Serves 1
1 piece of Lo-Dough, blitzed to fine crumbs
1 large egg, beaten
2 teaspoons of poppy seeds
A heaped teaspoon of lemon curd
The zest of a lemon
The juice of half a lemon
2 dessert spoons of sweetener
What you'll need
This diet-friendly recipe is possible with:

Original Lo-Dough Bases
Regular price
from £3.49
Out of stock
Method
Add all the ingredients (apart from the lemon curd) to a bowl and mix well.
Add half to a mug, put in a blob of lemon curd and then add the other half.
Cook in a microwave for 2-3 minutes (depending on wattage). After 2 minutes take out and check by pressing the bottom of the mug cake. It should feel firm to touch, with a little bounce.
Take out and leave to stand in the mug for a further minute before turning out onto a plate.
Serve with yoghurt for breakfast or low fat, sweetened crème fraîche for a lovely dessert.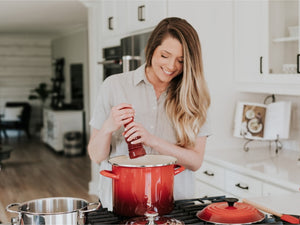 Hungry for more recipes?
Join over 200,000 subscribers in receiving new recipes, tips, offers and a whole lot more.