This is an ultra simple, fast, and impressively healthy pizza recipe which is high in protein - with Lo-Dough as your low fat pizza base.
Our fitness pizza team travelled to Be:FIT London 2018 to launch this outstanding, low calorie, super nutritious fitness-friendly pizza, and it's a real game changer. 3000 pizza samples in three days... we think the fitness world loved having a slice of the action.
Our thousands of Lo-Dough users swear by these nutritional, low calorie bread alternatives. Whether you are slimming or focused on your fitness and nutrition, on a cut diet, or generally taking care of your health, Lo-Dough is the way forward for innovative eating.
Inspired? Check out the Lo-Dough English Breakfast Pizza and be amazed at the nutritional value. 
 Lo-Dough is:
High fibre | fat free | low-carb | gluten free | dairy free | high protein | paleo | vegetarian | sugar free 
Ingredients
1 piece of Lo-Dough
65g of grated mozzarella or pizza cheese
55g of Nowt Poncy's L'amore é Pizza! (passata/pizza sauce)
A pinch of dried oregano
A crack of black pepper
What you'll need
This diet-friendly recipe is possible with:

Original Lo-Dough Bases
Regular price
from £3.49
Out of stock
Method
Preheat your oven to 250°C/475F/Gas 9.
Spray the fry-light into the pan and fry off your Lo-Dough to add some colour to the base.
Put the browned Lo-Dough onto your cooking mesh/grill bars/pizza stone/air-fryer stand and spoon the pizza sauce over, making sure to spread it right to the edge.
Add the mozzarella on top, distributing as evenly as possible and sprinkle over a little oregano.
Bake in your oven for 7 - 10 minutes, or until golden and bubbling. Serve straight away with a crack of black pepper over the top.
💡 Top Tip
If you feel you like your base could be crispier when it comes out, try adding back to a hot, dry frying pan for 8-10 seconds and remove with a spatula.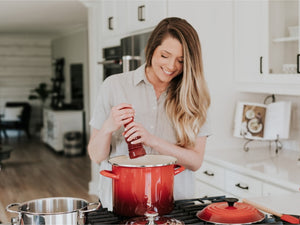 Hungry for more recipes?
Join over 200,000 subscribers in receiving new recipes, tips, offers and a whole lot more.