Indian Food Reinvented - with Low Calorie Onion Bhajis 
Indian food is back on the menu for slimmers and fitness fanatics, and these low calorie, high fibre onion bhajis are a great place to start. 
With Lo-dough and an egg to make the binding agent (essentially a breadcrumb or batter alternative), this traditional Indian starter and side dish has become highly nutritional as well as delightfully low in calories. The freedom to eat your favourite Indian spicy food is back, for Lo-Dough users everywhere. Friday fakeaway? We've got you covered. 
Lo-Dough Onion Bhajis are Nutritional 
These onion bhajis are  slashed to 182 calories for 2 bhajis and thanks to the filling fibre content of Lo-Dough, the bhajis can become the satisfying and complimentary accompaniment to your favourite curry rather than just a snack or starter. 
Lose the carb-heavy and calorific rice and naans - Do curry the Lo-Dough way instead.
Top tip: We've ground a selection of individual spices to make our spice-blend, but if preferred, use a tablespoon of garam masala or a good quality curry powder.
Big on Asian food? Check our the low calorie lamb kofta recipe. 
Our thousands of Lo-Dough users swear by these nutritional, low calorie alternative meals. Whether you are slimming for focused on your fitness and nutrition, going Lo-Dough can be a real game changer.
Ingredients
Serves 1
1 piece of Lo-Dough, blitzed to a crumb
1 large egg, beaten
10g fat free yoghurt
1 onion, sliced
Half a clove of garlic
A small handful of fresh coriander - roughly chopped
Half a teaspoon of coriander powder
Half a teaspoon of cumin
Half a teaspoon of tumeric
Half a teaspoon of black mustard seeds
6 sprays of fry-light
Salt & pepper
What you'll need
This diet-friendly recipe is possible with:

Original Lo-Dough Bases
Regular price
from £3.49
Out of stock
Method
Add three sprays of oil to a frying pan and fry the sliced onions, on a high heat until golden brown.
Add the garlic and spices and fry for a further minute. Take off heat and allow to cool a little.
Mix the Lo-Dough, cool onions, egg, yoghurt and fresh coriander in a bowl.
Shape into two balls and flatten to make the Bhajis.
Fry on a medium in the remaining fry-light for approx 3 minutes on each side, or until dark-golden brown.
Serve as a snack or as part of a delicious meal.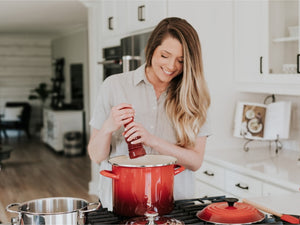 Hungry for more recipes?
Join over 200,000 subscribers in receiving new recipes, tips, offers and a whole lot more.